FHA HUD 223(f) Multifamily Loan Program
Our FHA HUD Multifamily Loan Benefits
FHA HUD Multifamily Loan rates start as low as 5.30% (as of June 5th, 2023)
• A commercial mortgage broker with over 30 years of lending experience
• No upfront application or processing fees
• Simplified application process
• Financing up to 85% LTV
• Terms and amortizations up to 35 years
• Long term fixed rates
• Loans for purchase and refinance, including cash-out
• Quick pre-approvals with no cost and no obligation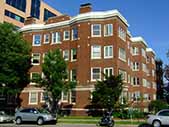 The FHA HUD 223(f) multifamily loan insurance program is one of the best financing options in the market for multifamily investors. This program has become very popular since the global financial crisis in 2008. The HUD 223(f) loan insurance program offers longer loan terms and amortizations and higher LTV's than traditional bank, Freddie Mac, Fannie Mae and CMBS multifamily loans. Additionally, these loans generally come with some of the lowest interest rates in the market. While many investors think that the FHA 223(f) loan program is only available for non-profits, low-income housing and affordable housing properties, the reality is that investors in all types of multifamily properties are eligible for this product. One of the biggest drawbacks to the FHA 223(f) program is the timing it takes to close the loan and the red tape the borrower must go through. The process can take anywhere from 5-10 months from start to closing (depending on geographical location and HUD's pipeline). This timeline presents a bigger issue for investors looking to acquire a property than those looking to refinance one. Sellers typically will not want to wait that long to sell their property. For this reason, we offer bridge to HUD loans. We finance the acquisition of the property through a bridge loan and simultaneously go through the HUD underwriting process. The bridge loan can close within 30-45 days, a reasonable timeline for most sellers. Once the bridge loan closes, we continue the process of HUD underwriting until the HUD 223(f) multifamily loan is ready to close.
FHA HUD 223(f) Multifamily Loan Program Loan Program Terms and Guidelines
Eligible Transaction Types
Both acquisitions and refinances
Eligible Properties
All types of 5+ unit multifamily properties including detached, semi-detached, row, walkup, and elevator-type apartment buildings. Properties can be market-rate, low-to-moderate income, and subsidized multifamily. Cooperative housing and affordable housing properties are eligible as well. Properties can have commercial space up to the lesser of 20% of effective gross income and 25% of the net rentable area
Borrower Requirements
Borrower must be a single asset entity. Borrower can be either for profit or not for profit. Entity must be bankruptcy remote
Interest Rate
Interest rate is fixed for the term of the loan.
Recourse
Loan is non-recourse with standard "bad-boy" carveouts
Loan to Value
Max 85% LTV for market rate properties
Max 87% LTV for affordable properties
90% LTV or the total debt that can be serviced by 90% of net operating income or more for Rental Assistance Properties
Minimum DSCR
Generally around 1.18x
Loan Term
Up to 35 years
Amortization
Fully amortizing loan, amortizations up to 35 years
Prepayment penalty
Various different options
Loan Assumption
Loans are assumable subject to HUD approval
Mortgage Insurance Premium
1% due to HUD at closing and 0.6% annually thereafter (0.25%-0.35% for affordable and subsidized properties, 0.25% for Energy Star certified properties).
Timing
Anywhere from 5-10 months (depending on geographical location and HUD's pipeline)
Standard Costs
Application fee of about $25,000 (typically covers appraisal, environmental report, market studies etc)
HUD exam fee- 0.3% of loan amount
HUD inspection fee- 0.5% of loan amount paid at closing
Standard financing fees, lender's legal and title
Key Facts about the HUD 223(f) Multifamily Loan Program
Loans are fully amortizing with terms up to 35 years
Loans have some of the best interest rates in the market
Interest rates are fixed for the life of the loan
These loans have offer some of the highest LTV and lowest DSCR requirements of any multifamily loans
Borrower must pay MIP at closing and annually
Monthly funding of replacement reserves is required with initial funding of replacement reserves — sometimes as much as $1,000 per unit for older properties.
HUD requires annual audit of the property
---
---
Recent TRUSTPILOT Reviews
Select Commercial Funding Reviews from TRUSTPILOT

A three year journey
"Thanks Stephen for all of your hard work in getting our deal closed! I appreciate your professionalism and patience throughout a complicated process. You always were there for my partner and I whenever we had questions and needed answers quick. It was a pleasure to have worked with you and Select Commercial!"