Business Real Estate Loans
Loans from $1 Million to $25 Million+
Business Real Estate Loan Rates - Rates updated March 30th, 2023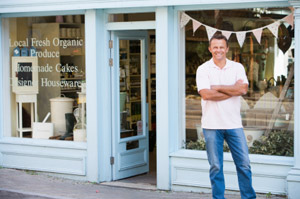 One of our specialties is providing business mortgage loans to assist self-employed small business owners acquire, refinance, or expand their business properties. While many banks and other lending institutions have stopped lending to small business owners, we are aggressively arranging loans at very attractive rates. Business real estate loans or owner occupied real estate loans for owner-user properties require a specialized commercial real estate lender. At Select Commercial, we offer both conventional and SBA owner occupied commercial mortgage loans.

In addition to analyzing the business real estate loan, the lender must have a thorough understanding of small business lending to self-employed borrowers. At Select Commercial, we are proud of our record of lending to self-employed borrowers. Quite often, self-employed real estate owners need underwriting flexibility with regard to their income and credit. Many times, a "Stated-Income" loan is necessary. Other times, a past credit issue or tax lien has caused a bank to reject the loan. At Select Commercial, we look at the entire story and are willing to overlook these issues if the loan makes good, common sense.


Business Mortgage - Types of Loans
•
Restaurant Mortgage
– Select Commercial specializes in restaurant financing for both seasoned operators and new owners. Whether you are starting a new business, or expanding an existing business, obtaining the right restaurant mortgage loan is almost as important as finding the right location for your restaurant.
•
Bowling Alley Loans
– we are pleased to offer bowling alley loans for the purchase or refinance of bowling alley properties nationwide.
•
Campground Loans
– we are pleased to offer campground loans for the purchase or refinance of campground properties nationwide.
•
Car Wash Loans
– We are pleased to offer car wash loans for the purchase or refinance of car wash properties nationwide. Select Commercial specializes in car wash financing for both seasoned operators and new owners.
•
Gas Station Loans
– we are pleased to offer gas station loans for the purchase or refinance of gas station properties nationwide.
•
Marina Loans
– we are pleased to offer marina loans for the purchase or refinance of marina properties nationwide.
We will consider business mortgages on most property types, including: hotels/motels, gas stations, convenience stores, laundromats, other professional offices, warehouses, industrial facilities, auto repair, retail stores, self-storage, day care, liquor stores, assisted living facilities, etc. Physicians, dentists, veterinarians, and other medical professionals may qualify for up to 100% financing for their medical practices, including working capital. We will also entertain business loan requests for highly specialized, single-use properties, such as bars, restaurants and skating rinks. We even financed a sky-diving wind tunnel for one of our clients!
Our company has multiple capital sources for these business real estate loans, including: SBA, USDA, numerous local and national banks and credit unions. We will entertain loan requests of all sizes, beginning at $1,000,000.
Business Mortgage rates start as low as 5.49% (as of March 30th, 2023)

SBA Commercial Mortgage Rates as low as Prime + 1.50%
(adjustable and fixed rate options available)
• Loans from $1,000,000+
• A commercial mortgage broker with over 30 years of lending experience
• No upfront application or processing fees
• Simplified application process
• Financing up to 90% LTV on SBA deals
• Financing up to 75% on conventional deals
• Terms and amortizations up to 30 years
• Loans for purchase and refinance, including cash-out
• Access to business working capital to fund new business growth
• 24 hour written pre-approvals with no cost and no obligation
Recent TRUSTPILOT Reviews
Select Commercial Funding Reviews from TRUSTPILOT

A three year journey
"Thanks Stephen for all of your hard work in getting our deal closed! I appreciate your professionalism and patience throughout a complicated process. You always were there for my partner and I whenever we had questions and needed answers quick. It was a pleasure to have worked with you and Select Commercial!"
Recent Closings
Business Mortgage Outlook for 2021 - Commercial Mortgage Rates
The COVID-19 pandemic seriously depressed the demand for apartment living space across the Unites States. One of the biggest factors that directly impacts apartment demand and household formation is a given market's availability of jobs. The pandemic caused many people to be out of work and many other people to work remotely. Consequently, many prospective tenants such as new graduates lived with their parents or friends. With increased hiring in 2021 and many people returning to their in-office jobs, there has been a big rise in the demand for nationwide apartment housing. As more and more young graduates can return to work, this trend should continue throughout 2021. Commercial mortgage rates for apartment buildings have been at all-time lows throughout 2021 and experts don't anticipate them to go up soon. The office and retail sectors did not fare so well in 2020 due to the pandemic. Many businesses shut down, brick and mortar retail shops had a hard time doing business and many companies implemented work from home policies. Many lenders were very conservative when considering commercial mortgage applications for these sectors. With vaccinations increasing and many states removing restrictions, business profitability has risen throughout 2021. In 2021, we are seeing companies hiring again after a dismal 2020. During 2021, it is estimated that more than 6.5 million workers will be added to company payrolls, many of them needing office space. Commercial mortgage lenders are not extremely bullish on the office sector and commercial mortgage rates, while attractive, are not as low as some other asset classes. Meanwhile, we are not seeing commercial mortgage lenders lend aggressively on retail properties in 2021. While the loans that lenders do fund may be at lower commercial mortgage rates, they aren't as low as other asset classes and borrowers are having a difficult time obtaining high leverage loans in 2021.

Industrial properties are emerging well positioned from the pandemic and are expected to perform well in 2021 and beyond. The rapid growth of e-commerce, especially during the pandemic, is causing strong demand for industrial and warehouse space. 2021 has been a strong year for industrial absorption and sales prices of suitable industrial space has skyrocketed. Industrial properties currently are receiving very attractive commercial mortgage rates as this market is receiving a lot of attention. Experts believe that close to $578 billion of commercial mortgages and multifamily loans will be funded in 2021. This is over a 30% increase from 2020's volume of $442 billion. As commercial mortgage rates remain at all-time lows, 2021 is a great time for prospective borrowers to look for commercial mortgage loans. Right now in 2021, commercial mortgage rates can be in the high 2% range for qualified properties and borrowers. Apartment loans above $6 million can qualify for rates in the mid- high 2% range while apartment loans below $6 million are generally being underwritten in 2021 in the low to mid 3% range. Many lenders are financing commercial mortgage loans for other asset types in the low to mid 3% range as well in 2021. Check out our low commercial real estate loan rates and use our commercial mortgage calculator to calculate monthly principal and interest.

Many businesses suffered tremendous losses during the pandemic, including restaurants and other entertainment venues that were forced to close. Other businesses did very well. Businesses that were able to offer health and safety products and those businesses that offered delivery found ways to make thrive during the pandemic. The availability of business real estate loans in 2021 depends on the financials of the operating company. Business real estate lenders want to make business real estate loans to companies that have demonstrated an ability to survive the past and thrive in 2021.