Business Real Estate Loans
Business Real Estate Loan Rates - Rates updated December 9th, 2023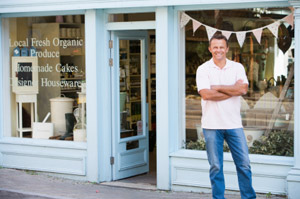 One of our specialties is providing business mortgage loans to assist self-employed small business owners acquire, refinance, or expand their business properties. While many banks and other lending institutions have stopped lending to small business owners, we are aggressively arranging loans at very attractive rates. Business real estate loans or owner occupied real estate loans for owner-user properties require a specialized commercial real estate lender. At Select Commercial, we offer both conventional and SBA owner occupied commercial mortgage loans.

In addition to analyzing the business real estate loan, the lender must have a thorough understanding of small business lending to self-employed borrowers. At Select Commercial, we are proud of our record of lending to self-employed borrowers. Quite often, self-employed real estate owners need underwriting flexibility with regard to their income and credit. Many times, a "Stated-Income" loan is necessary. Other times, a past credit issue or tax lien has caused a bank to reject the loan. At Select Commercial, we look at the entire story and are willing to overlook these issues if the loan makes good, common sense.


Business Real Estate - Types of Loans
•
Owner Occupied Offices and Retail Properties
– Select Commercial loves to lend to self employed borrowers who are looking to finance their owner-occupied properties. We lend to doctors, dentists, other health care professionals, lawyers, accountants, retail store owners, etc.
•
Restaurant Mortgage
– Select Commercial specializes in restaurant financing for both seasoned operators and new owners. Whether you are starting a new business, or expanding an existing business, obtaining the right restaurant mortgage loan is almost as important as finding the right location for your restaurant.
•
Bowling Alley Loans
– we are pleased to offer bowling alley loans for the purchase or refinance of bowling alley properties nationwide.
•
Campground Loans
– we are pleased to offer campground loans for the purchase or refinance of campground properties nationwide.
•
Car Wash Loans
– We are pleased to offer car wash loans for the purchase or refinance of car wash properties nationwide. Select Commercial specializes in car wash financing for both seasoned operators and new owners.
•
Gas Station Loans
– we are pleased to offer gas station loans for the purchase or refinance of gas station properties nationwide.
•
Marina Loans
– we are pleased to offer marina loans for the purchase or refinance of marina properties nationwide.
We will consider business mortgages on most property types, including: hotels/motels, gas stations, convenience stores, laundromats, other professional offices, warehouses, industrial facilities, auto repair, retail stores, self-storage, day care, liquor stores, assisted living facilities, etc. Physicians, dentists, veterinarians, and other medical professionals may qualify for up to 100% financing for their medical practices, including working capital. We will also entertain business loan requests for highly specialized, single-use properties, such as bars, restaurants and skating rinks. We even financed a sky-diving wind tunnel for one of our clients!
Our company has multiple capital sources for these business real estate loans, including: SBA, USDA, numerous local and national banks and credit unions. We will entertain loan requests of all sizes, beginning at $1,500,000.
Business Mortgage rates start as low as 6.38% (as of December 9th, 2023)

SBA Commercial Mortgage Rates as low as Prime + 1.50%
(adjustable and fixed rate options available)
• Loans from $1,500,000+
• A commercial mortgage broker with over 30 years of lending experience
• No upfront application or processing fees
• Simplified application process
• Financing up to 90% LTV on SBA deals
• Financing up to 75% on conventional deals
• Terms and amortizations up to 30 years
• Loans for purchase and refinance, including cash-out
• Access to business working capital to fund new business growth
• 24 hour written pre-approvals with no cost and no obligation
Recent TRUSTPILOT Reviews
Select Commercial Funding Reviews from TRUSTPILOT

A three year journey
"Thanks Stephen for all of your hard work in getting our deal closed! I appreciate your professionalism and patience throughout a complicated process. You always were there for my partner and I whenever we had questions and needed answers quick. It was a pleasure to have worked with you and Select Commercial!"
Recent Closings
Business Real Estate Loans 2023
The recent bank failures of Silicon Valley Bank in California and Signature Bank in New York are causing the Federal Reserve to take a close look at their approach to interest rate hikes. At its meeting in March 2023, the Fed raised the federal funds rate by another 0.25% representing its ninth increase in 12 months. The increase raised the federal funds rate to 4.75%. The Federal Reserve's Open Markets Committee is still concerned about the high inflation rate and tight labor market, but the rate increase is lower than what the market expected prior to the current banking crisis. The bank closings have caused the Fed to act cautiously with regard to rate increases. The Fed has raised rates by 50 basis points so far in 2023 which represents a slower rate of increase from last year.

As we move forward in 2023, the Fed is expected to be more measured as they continue to work towards lower inflation while keeping an eye on the overall health of the banking sector. As the federal funds rate moves toward stability, we expect to see an increase in commercial real estate lending as lenders are more able to set reasonable terms and ascertain property values. A stable federal funds rate will allow seller's asking prices and buyer's offering prices to be more inline with one another so buyers and sellers could agree on terms. The current bank failures are causing lenders to be more cautious and many have tightened up their underwriting. We are seeing downward pressure on the 10 year treasury rate which is the most common index used in commercial real estate lending. The lower treasury rates are helping to modestly lower commercial mortgage rates. Today's higher rates, and higher debt service costs, require that real estate investors take on less debt in order to retain positive cash flow. Well performing properties that are able to pass along rent increases should continue to perform well in this market. Properties that are locked into long term leases at lower rents will continue to suffer as debt service costs rise.

Many loans maturing in 2023 and needing to be refinanced will not be able to cash flow and will require their owners to put more equity into their properties or face potential default. The current "distress" rate remains low, but we expect that to increase this year if rates continue to move higher and rents do not rise at the same time. Many of the under-performing assets are expected to be in the office and retail sectors as these sectors have the most exposure to declining economic conditions. The retail and office sectors were severely hurt during the Covid-19 pandemic and have not been able to gain traction with the economic slowdown and higher interest rates. Many of these out of favor retail and office properties are being repositioned for other uses, with medical use being at the top of the list. The bottom line is that the commercial real estate industry incurs losses when we have higher rates and slowing economic activity. If the economy goes into a recession, we can expect severe losses. If the Fed is able to negotiate a soft landing for the economy, we might be able to avoid a serious problem. We are watching the Fed closely to see what develops.