Apartment Loans
$1,000,000 Minimum
Apartment Loan Rates -

Rates updated December 3rd, 2021

Apartment Loan Rates Over $6,000,000
Rates (start as low as)
LTV
Multifamily 5 Year Fixed Loan Rates
2.65%
Up to 80%
Get Free Quote
Multifamily 7 Year Fixed Loan Rates
2.73%
Up to 80%
Get Free Quote
Multifamily 10 Year Fixed Loan Rates
2.85%
Up to 80%
Get Free Quote
Apartment Loan Rates Under $6,000,000
Rates (start as low as)
LTV
Multifamily 5 Year Fixed Loan Rates
3.22%
Up to 80%
Get Free Quote
Multifamily 7 Year Fixed Loan Rates
3.23%
Up to 80%
Get Free Quote
Multifamily 10 Year Fixed Loan Rates
3.24%
Up to 80%
Get Free Quote
Our Apartment Loan Benefits
Apartment Loan rates start as low as 2.65% (as of December 3rd, 2021)
• No upfront application or processing fees
• Simplified application process
• Financing up to 80% LTV
• Terms and amortizations up to 30 years
• Long term fixed rates
• Loans for purchase and refinance, including cash-out
• 24 hour written pre-approvals with no cost and no obligation
Recent TRUSTPILOT Reviews
Select Commercial Funding Reviews from TRUSTPILOT

A three year journey
"Thanks Stephen for all of your hard work in getting our deal closed! I appreciate your professionalism and patience throughout a complicated process. You always were there for my partner and I whenever we had questions and needed answers quick. It was a pleasure to have worked with you and Select Commercial!"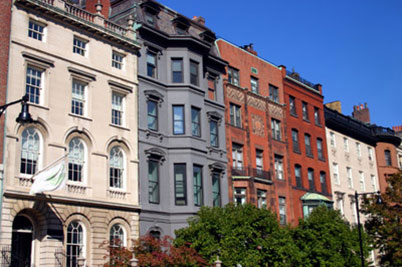 We are experts in securing apartment building loans. Sometimes referred to as multifamily loans, these types of loans have traditionally constituted the largest portion of our total business volume. We have information that can help you with How to Buy an Apartment Building. Whether you are looking to finance a small apartment building, a complex with hundreds of units, or a co-operative looking for an underlying mortgage, we can help you find the optimal financing solution to meet your apartment mortgage loan needs. Our company has access to multiple capital sources, including: Fannie Mae, Freddie Mac, HUD, numerous local and national banks, Wall Street conduit lenders, Agency lenders, credit unions and insurance companies. We will entertain multifamily loan requests of all sizes, beginning at $1,000,000. See our article published in a major magazine on How to Invest in an Apartment Building and how to get the best rate on a multifamily loan. We arrange financing for the following:
Large urban high-rise apartment buildings
Suburban garden apartment complexes
Small apartment buildings containing 5+ units
Underlying cooperative apartment building loans
Portfolios of small apartment properties and/or single-family rental properties
Other multi-family and mixed-use properties

Our company has multiple capital sources for these loans, including: Fannie Mae, Freddie Mac, FHA, national banks, regional and local banks, insurance companies, Wall Street conduit lenders, credit unions and private lenders. Whether you are purchasing or refinancing, we have the right solutions available. We will entertain loan requests of all sizes, beginning at $1,000,000. Get started with a Free Loan Quote.
2021 Multifamily Outlook
Employment in the US is expected to show a 4.6% year over year increase with the creation of 6.5 million new jobs in 2021 which represents the largest annual increase in over three decades.  This is the result of businesses emerging from the Covid-19 pandemic.  Unfortunately, the US lost close to 9.4 million jobs during the pandemic.
Strong demand for apartments, as a result of increased employment rates, is expected to push national vacancy rates down to 3.9%, down from 4.4% in 2021.
Construction of new apartments in 2021 are expected to top 385,000 new units, an increase of 2.1% over last year's record pace.  Rising labor and construction costs are starting to have an effect on new construction, however.
Following rent declines during the pandemic, average rental rates are expected to rise 6.8% in 2021 to $1,507 per month.  Landlords are able to raise rents dramatically due to decreased vacancy rates and the strong demand got rental housing.
The COVID-19 pandemic affected the ability of young graduates to find jobs and move into apartments of their own.  The demand for apartment rentals is usually fueled by young graduates entering the workforce and moving into rental apartments.  Many young adults lived with their parents or friends during the pandemic and into early 2021.  As 2021 progressed, many companies reopened their offices and began hiring again which generated record levels of new apartment rentals.  This trend should continue through late 2021 as more new workers are able find jobs and move into their own apartments.  Many of these new multifamily units are in metro areas of the sunbelt states as workers have been moving out of colder urban areas in favor of more suburban warmer climates.

The tight market in 2021 for new home purchases has caused many would be homebuyers to continue renting.  Prices for existing homes have risen due to lack of inventory and the cost of construction has skyrocketed due to increased costs for raw materials.  The high cost of purchasing a new or existing home is keeping the demand for rental units very strong in 2021.

During the pandemic, when workers were either out of work or working from home, many people moved out of densely populated urban areas in favor of suburban locations.  In 2021, as more employees are returning to their offices, we are seeing demand pick up once again for rental apartments in urban locations.  In addition, as more and more retail and dining locations reopen in downtown areas, we expect to see a return of employees to these areas.

During the pandemic, the CDC and local governments instituted a moratorium of evictions.  This caused many landlords to suffer economic losses and depressed the value of apartment properties.  In 2021, as these moratoriums start to expire, we expect to see strong demand from investors for these properties.

Nationwide, the first half of 2021 saw more than 175,000 new apartments completed and a total of 363,000 for the previous 12 months.  A high percentage of these new units were in Texas and other sunbelt states, as more and more people are relocating to warmer climates.  Occupancy rates and asking rents have been lower in larger urban markets in the Northeast and other colder climates, while occupancy rates and asking rents have been increasing in these warmer sunbelt climates.  These 2021 trends have definitely been driven by the COVID-19 pandemic and we are watching these trends closely to see if these trends persist after the pandemic is over.
Economic Outlook for 2020 Multifamily Loans
For various reasons, the 2020 American economy has taken a big hit recently. With the current outbreak of Covid-19, the overall economy has been in flux. The stock market has been fluctuating wildly and commercial mortgage interest rates have been severely impacted. Huge metros such as New York have all but shut down much economic activity and entertainment. In this unsteady climate, many investors are scared to purchase commercial real estate and to take out commercial mortgages and multifamily loans. Multifamily loan rates initially dropped to record lows at the beginning of the year, but since the pandemic, as lenders became more wary of a recession, apartment loan rates began to steadily rise. Currently, many lenders have put measures in place to significantly reduce the risk of multifamily loan lending. For example, many apartment loans undertaken in April have required significant debt service reserves and have been sized to lower LTV rates than in the past. Additionally, the oil industry has taken a big hit. Not only are people traveling less due to the pandemic, foreign countries like China and Russia are involved in a huge price war which is driving the price of oil way down. The international trade war has also continued to complicate our national economic outlook. Experts predict that this trade war will continue to be a massive wildcard for the American economy. While a phase one trade deal was reached and multiple tariffs were suspended in the second half of last year, negotiations are expected to continue further into 2020 and to taper growth. Declining global economies and the potential impact of Brexit are expected to further restrain our economic growth. The upcoming U.S. election in November 2020 is another factor that may cause market uncertainty, possibly deterring investor decision making.
2020 Multifamily Loan Overview
It is very important for multifamily investors to understand the landscape of the national apartment industry. Experts have anticipated a slight rise in the national apartment vacancy rate in 2020. While some may think that this rise reflects diminishing demand, experts are convinced that it actually stems from a shortage of class B and class C apartments. Interested renters are expected to face difficulty finding an available apartment as workforce housing vacancy has dropped incredibly. While construction of new multifamily units will help a little, the largely Class A additions will not completely align with the needs of renters looking for more affordable apartment units. Given the high demand, many investors are still looking for multifamily loans to purchase new multifamily properties. Although many markets have witnessed a revitalization of their urban centers, the larger national housing trends significantly favor suburban areas and investors are increasingly looking for multifamily loans / apartment loans to purchase properties in these locations. Millennials are now taking on significant lifestyle changes such as marriage and starting families. These people are looking to move into more suburban areas. When one compares the vacancy rate in urban and suburban areas over the past five years, the preference for the latter is clear. Over this time period the nationwide urban vacancy rate has decreased 20 basis points while the suburban vacancy rate has dropped 100 basis points. With regards to rent, experts anticipate that rent gains will differ significantly based on city and apartment class. Class C apartments are expected to rise the most with an anticipated 4.3 percent gain as vacancy for this class remains incredibly low. Growth in Class A and B apartment units are expected be more modest, with rates in the mid 3% range. While the expected national average rent growth for multifamily units sits at 3.8 percent national, several metros such as Las Vegas, Phoenix and Nashville are expected to surpass that number as they have benefitted tremendously from significant population additions employment growth. Although there are a lot of uncertainties in the market right now, multifamily investors are still actively in pursuit of multifamily loans to help make their next purchase.
Apartment Loans in 2020
With regards to mortgage origination and apartment loans, low interest rates and strong multifamily performance are expected to help loan volumes grow. Experts predict that the origination volume in 2020 will increase by 5.7% to $390 billion. Market data indicates that cap rates have more room to decline, which will lead to increasing property values and should drive up origination volume. Rent growth is expected to moderate and vacancy rates will probably increase modestly over the rest of the year. As cap rates decline and market fundamentals improve property values are expected to rise and lead to higher origination volumes and more multifamily loans. Lifestyle preferences, demographics and the lack of available houses to purchase at lower price points will keep many potential home buyers in multifamily units. Given all of these metrics, investors are still very interested in taking out apartment loans to purchase properties in 2020.
Fannie Mae Multifamily Financing
Fannie Mae is one of the nation's leading secondary market sources of capital for apartment building financing. Fannie Mae provides mortgage capital for conventional, affordable housing, cooperatives, senior housing, student housing, manufactured housing communities and mobile home parks nationwide. Fannie Mae's apartment loan program offers many distinct advantages over traditional bank programs, including: long-term fixed rates up to 30 years, high LTV ratios up to 80%, and nonrecourse financing (no personal guarantee to the principals).
Fannie Mae Apartment Loans - Small Balance
Fannie Mae Apartment Loan - Small Balance
| | | | |
| --- | --- | --- | --- |
| Minimum Loan Amount | Max LTV | Term | Amortization |
| $1,000,000 | Tiered pricing from 55% – 80% | 5 to 30 years | Up to 30 years |
Fannie Mae Apartment Loans - Large Balance
Fannie Mae Apartment Loan - Large Balance
| | | | |
| --- | --- | --- | --- |
| Minimum Loan Amount | Max LTV | Term | Amortization |
| $6,000,000 | Tiered pricing from 55% – 80% | 5 to 30 years | Up to 30 years |
Freddie Mac Multifamily Loan Programs
Freddie Mac is another nationwide source of mortgage capital for apartment building financing. The Freddie Mac apartment loan programs offer many unique and beneficial features for apartment purchases and refinances, with a minimum loan size of $1,000,000. The loan application process is simple and streamlined. As an example, tax returns for the borrower and the property are not required. Loans typically close in 45 days and the program has much lower costs than other government or agency programs. Loans are non-recourse, which means that the borrower is not required to guarantee payments personally. Prepayment penalties are flexible, ranging from yield maintenance to soft stepdown. Perhaps the best feature is that Freddie Mac offers a free rate hold for 45 days from application. If rates change during the processing period, the loan rate is automatically held from the date of application.
Freddie Mac Apartment Loan
| | | | |
| --- | --- | --- | --- |
| Minimum Loan Amount | Max LTV | Term | Amortization |
| $1,000,000 | Tiered pricing from 55% – 80% | 5, 7, and 10 Year Fixed Rates | Up to 30 years |
Bank Apartment Loan Program
In addition to offering loans from agency lenders Fannie Mae and Freddie Mac, we also offer many different bank and portfolio loan programs. While the agency lenders typically have the lowest rates available in the market, many times the borrower would be better off obtaining an apartment building loan from a traditional portfolio lender. Often times, a portfolio product will better serve the needs of the borrower by offering more flexible underwriting and loan terms.
| | | | |
| --- | --- | --- | --- |
| Minimum Loan Amount | Max LTV | Term | Amortization |
| $1,000,000 | Tiered pricing from 55% – 75% | 5, 7, and 10 Year Fixed Rates | Up to 30 years |
Commercial Mortgage-Backed Securities (CMBS Loans)
Another major source of mortgage capital for apartment building loans is the commercial mortgage-backed securities market through Wall Street investment banks. CMBS lenders make individual loans to borrowers which are then packaged and sold to investors as securities. These loans provide interest rate yield to their investors while contributing liquidity to the capital markets. This liquidity in the markets means lower commercial mortgage rates to borrowers. Borrowers are well served when there are multiple sources of capital in the market. Some of the benefits of a CMBS loan include:
| | | | |
| --- | --- | --- | --- |
| Minimum Loan Amount | Max LTV | Term | Amortization |
| $1,000,000 | Tiered pricing from 55% – 75% | 5, 7, and 10 Year Fixed Rates | Up to 30 years |
Apartment Bridge Loan
Very often, a property does not qualify for traditional lender programs for various reasons including: vacant properties, properties with un-stabilized occupancy, properties in need of major repair or remodeling, properties that do not cash flow or are underperforming, or loans that must close with a very quick timeline. These loans are very often best served by a bridge loan. Bridge loans are short-term loans, usually at higher rates than traditional financing that allow the borrower the time and money to reposition a property in order to qualify for traditional bank loans in the future.
| | | | |
| --- | --- | --- | --- |
| Minimum Loan Amount | Max LTV | Term | Amortization |
| $1,000,000 | 75% | Typically Up to 3 Years Only | Interest Only or Amortized |