Apartment Loans | Multifamily Loans
Apartment loans, sometimes referred to as multifamily loans, are loans that have traditionally constituted the largest portion of our total business volume. We are experts in securing apartment loans and mixed-use mortgages. We have over 30 years of experience working on apartment loans. So, if you have a question about apartment financing and need a loan that is greater than 1 million, give us a call today at 516-596-8537. Because we can help answer any questions that you have about them.
Today's Apartment Loan Rates - Updated August 14th, 2022
Below are the best apartment loan rates that we currently offer. Call us today at 516-596-8537 to see if you qualify.
| Apartment Loan Rates Over $6,000,000 | Rates (start as low as) | LTV | |
| --- | --- | --- | --- |
| 5 Year Fixed Rates | 4.57% | Up to 80% | Get Free Quote |
| 7 Year Fixed Rates | 4.63% | Up to 80% | Get Free Quote |
| 10 Year Fixed Loan | 4.65% | Up to 80% | Get Free Quote |
| Apartment Loan Rates Under $6,000,000 | Rates (start as low as) | LTV | |
| --- | --- | --- | --- |
| 5 Year Fixed Rates | 4.70% | Up to 80% | Get Free Quote |
| Year Fixed Rates | 4.76% | Up to 80% | Get Free Quote |
| 10 Year Fixed Rates | 4.78% | Up to 80% | Get Free Quote |
Our Apartment Loan Benefits
Apartment Loan rates start as low as 4.57% (as of August 14th, 2022)
• A commercial mortgage broker with over 30 years of lending experience
• No upfront application or processing fees
• Simplified application process
• Financing up to 80% LTV
• Terms and amortizations up to 30 years
• Long term fixed rates
• Loans for purchase and refinance, including cash-out
• 24 hour written pre-approvals with no cost and no obligation
Recent TRUSTPILOT Reviews
Select Commercial Funding Reviews from TRUSTPILOT

A three year journey
"Thanks Stephen for all of your hard work in getting our deal closed! I appreciate your professionalism and patience throughout a complicated process. You always were there for my partner and I whenever we had questions and needed answers quick. It was a pleasure to have worked with you and Select Commercial!"
Apartment Loans
We have information that can help you with How to Buy an Apartment Building. Mixed use mortgages are used for buildings that offer multifamily units along with a business usually located on the first floor. Whether you are looking to finance a small apartment building, a complex with hundreds of units, or a co-operative looking for an underlying mortgage, we can help you find the optimal financing solution to meet your apartment loan needs. Our company has access to multiple capital sources, including: Fannie Mae, Freddie Mac, HUD, numerous local and national banks, Wall Street conduit lenders, Agency lenders, credit unions and insurance companies. We will entertain multifamily loan requests of all sizes, beginning at $1,000,000. See our article published in a major magazine on How to Invest in an Apartment Building and how to get the best rate on a apartment loan. We arrange financing for the following:
Large urban high-rise apartment buildings
Owner occupied multifamily financing
Suburban garden apartment complexes
Small apartment buildings containing 5+ units
Underlying cooperative apartment building loans
Portfolios of small apartment properties and/or single-family rental properties
Other multi-family and mixed-use properties

Our company has multiple capital sources and multifamily lenders for these commercial multifamily loans, including: Fannie Mae, Freddie Mac, FHA, national banks, regional and local banks, insurance companies, Wall Street conduit lenders, credit unions and private lenders. Whether you are purchasing or refinancing, we have the right solutions available. We will entertain loan requests of all sizes, beginning at $1,000,000. Get started with a Free Loan Quote.
Apartment Loan Products
Freddie Mac Multifamily Loan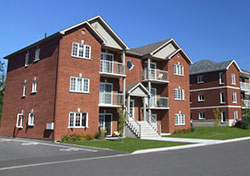 Freddie Mac is a government sponsored agency that offers incredible financing solutions to investors looking for apartment loans. They provide both fixed rate and floating rate multifamily loans to acquire or refinance a wide variety of multifamily properties. These apartment building loans are used to finance properties such as market-rate apartments, student housing, senior housing, and affordable housing. While
Freddie Mac multifamily loans
have always been one of the industry's most aggressive financing source for larger apartment loans, Fannie Mae used to really dominate the smaller balance market. However, over the last 7 years, Freddie Mac has rolled out their Freddie Mac Small Balance Multifamily Loan program to compete with Fannie Mae in the small balance market. For eligible borrowers, Freddie Mac apartment building loans offer some of the best terms and rates in the market.
Fannie Mae Multifamily Loan
Fannie Mae is one of the nation's leading secondary market sources of capital for apartment building financing. Fannie Mae provides mortgage capital for conventional, affordable housing, cooperatives, senior housing, student housing, manufactured housing communities and mobile home parks nationwide. The
Fannie Mae apartment loan
program offers many distinct advantages over traditional bank programs, including long-term fixed rates up to 30 years, high LTV ratios up to 80%, and nonrecourse financing (no personal guarantee to the principals). Fannie Mae Multifamily provides long term permanent mortgage loans for the purchase or refinance (cash-out OK) of apartment properties nationwide. Fannie Mae Multifamily loans can be used to finance apartment buildings with at least 5 residential units. No more than 20 percent of net rentable area can be leased out to commercial tenants. Fannie Mae Multifamily is an industry leader in apartment building loans and there terms are incredibly difficult to beat.
FHA HUD Multifamily Loans
FHA HUD Multifamily Loans
- HUD (Department of Housing and Urban Development) and FHA (Federal Housing Administration) insured multifamily loans are some of the best financing options for real estate investors and developers. While HUD does not directly make these loans, they do insure multifamily loans made by third party lenders to real estate investors. The third party lender will process the loan in accordance with the FHA HUD guidelines and HUD will underwrite the loan in order to provide the insurance. There are two primary types of HUD insured loans that multifamily investors can take advantage of. In 2021, HUD insured about 1,800 loans (worth over $29 billion) made to commercial real estate investors and developers. These loans were made on multifamily and healthcare properties all across the United States. HUD put a few new policies into place that made their loan insurance programs even more desirable for investors. HUD used to require developers of newly constructed apartment buildings to wait at least three years in order to be eligible to refinance their property into a HUD insured loan. In 2020, HUD did away with this rule- allowing developers to refinance right at stabilization. Many developers took advantage of this rule change in 2021, helping HUD achieve record loan volume year over year.
Underlying Co-op Loans
Co-operative financing (or co-op financing) is a specialized niche within the apartment or multi-family financing sector. It would help to start with an understanding of what a
underlying co-op Loan
is and how it differs from a regular apartment or condominium. A co-op is a multi-family building which is owned by a co-operative association and managed or controlled by a co-op board. When a purchaser buys an individual co-op unit, he is not actually buying real estate. He is purchasing shares in the co-operative association and granted the right to occupy the apartment under a proprietary lease for that apartment. The physical units and all of the common areas are owned by the co-op association. Most co-ops have an underlying loan or underlying mortgage on the entire building. The monthly payment for this underlying loan is shared by all of the shareholders in the form of monthly maintenance. A portion of the monthly maintenance in a co-op is used to pay the principal and interest for the co-operative's underlying mortgage. This has nothing to do with an individual loan that a unit owner might have with a local residential lender on his individual unit.
Apartment Bridge Loan
The effects of the last recession left a lasting impact on many commercial real estate markets. Many properties today are still underperforming or have maturing mortgage debt in excess of today's available loan to value ratios. These properties may need expert restructuring and turn around in order to be refinanced in today's market. At Select Commercial, we are able to provide short-term
apartment bridge loans
to aid the owners and purchasers of underperforming and un-stabilized properties. Our apartment bridge loans offer quick closings and may be used to acquire a property in foreclosure, lease-up an underperforming property, allow a borrower to take advantage of a discounted payoff, refinance a maturing loan, reposition a property, rehab a vacant property, pay back taxes and liens, meet seasoning requirements, meet tight closing deadlines, or take cash for tenant improvements.
CMBS Loan
Another major source of mortgage capital for apartment building loans is the commercial mortgage-backed securities market through Wall Street investment banks. CMBS lenders make individual
CMBS loans
to borrowers which are then packaged and sold to investors as securities. These loans provide interest rate yield to their investors while contributing liquidity to the capital markets. This liquidity in the markets means lower commercial mortgage rates to borrowers. Borrowers are well served when there are multiple sources of capital in the market. Eligible properties include Multifamily, Manufactured Housing, Office, Retail, Industrial and Self-Storage.
Apartment Loan Helpful Articles
How to Get the Best Rate on a Multifamily Loan
Fannie Mae and Freddie Mac 2022 Update
How To Get The Best multifamily mortgage Rates On An Apartment Refinance
What Do Underwriters Look for When Evaluating Apartment Loans?
What You Need to Know About Freddie Mac SBL Multifamily Loans
How to Calculate Debt Service Coverage Ratio for Apartment Loans
Apartment Occupancy Levels – Concern in Some Major US Markets
How to Invest in an Apartment Building
Are You Shopping for an Apartment Building Loan?
How to Buy an Apartment Building
What Are Commercial Mortgage Lenders Looking for These Days
Uncomplicated Underwriting
How to Qualify for a Great Rate When Refinancing Your Apartment Building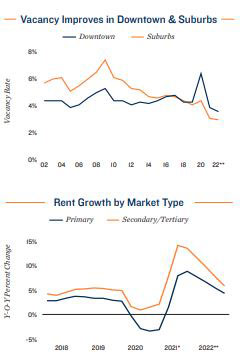 Apartment Loan Outlook 2022
Apartments Show Record Strength as Household Growth Performs at Record Levels
In 2022, we expect strong housing demand to surpass existing supply. 2021 was a very strong year for apartment owners. After the difficulties of 2020 due to the pandemic caused much disruption, rapid job creation and a strong economic reopening led to a surge in apartment rentals. A record number of units were rented in 2021, driving the national apartment vacancy rate down to the lowest year-end level in more than twenty years. Average multifamily rental rates increased by record setting margins, as well. Apartment profitability is expected to increase even further in 2022, although probably at a slower pace following the uncertainty observed in 2020 and 2021, as the economy often started up and slowed down quickly with each new strain of the Coronavirus pandemic. As the economy continues its stabilized recovery, apartment demand will continue to grow. Strong household formation will drive rental increases above the record 400,000 apartments expected to hit the market in 2022. Apartment availability among top-of-the-line Class A units began 2022 at one of the lowest rates in over twenty years. Rental demand for Class B and C units, will also strengthen in 2022 as increasing prices prompt some apartment renters to give up more expensive apartments. Raw material and labor shortages also raise risks of construction delays in the home buying market, keeping many would be buyers in apartment rentals. As such, all multifamily properties will perform well in 2022.
Urban areas continue to recover even as suburban demand gets stronger. The Coronavirus pandemic and associated lockdowns caused a movement, or transition, of households from densely populated urban areas and large urban cities to more suburban and rural settings and secondary market locations. Vacancy rates in the densely populated business districts of the country's large markets rose 230 basis points in 2020, versus a 10 basis point vacancy rate increase in smaller suburban submarkets in smaller cities. Apartment availability has continued to decrease in these secondary market locations even though the worst of the pandemic has passed. Not including immigration, an estimated 44 million people will enter their 30s over the next 10 years, a stage of life associated with the beginning of families, which is the main driver of apartment demand. Increasing household size causes renters to look for larger accommodations, which are more affordable in suburban and rural locations. While this demographic change will continue in 2022 and beyond, urban areas are also recovering quickly as offices in downtown areas continue to reopen. The 2020 shock to downtown markets changed course by the third quarter of 2021, with further improvement anticipated in 2022. The reopening of retail establishments such as bars, restaurants and entertainment venues, the continuing return to offices, and a new group of college graduates all point to strong demand for the downtown apartments in urban locations.
Multifamily Loans - Things to watch in 2022
Federal rental aid during the pandemic prevented dire eviction projections. Historically, the vacancy rate in Class C apartments has tracked well with the unemployment rate. During the Coronavirus pandemic, however, when unemployment hit 14.8 percent, Class C vacancy stayed below 4 percent. Federal stimulus and eviction moratoriums kept many renters in their apartments even through layoffs, furloughs, and job losses. While eviction moratoriums have ended, over $40 billion in rental aid is being distributed which is helping to prevent large migration out of apartment units.
Housing demand in 2022 is expanding into alternative dwellings. Households are being created faster than new construction can accommodate, forcing some apartment renters to look at other choices. Millennials seeking larger space at lower costs are considering single-family home rentals while those who are priced out of Class C units are looking more at manufactured home communities and mobile home parks.
The ability to work from home offices and pet-friendly accommodations are gaining importance in 2022. Even though the pandemic situation is improving, work habits adopted during the pandemic will not be so easily reversed. The increase in workers who still work from home has caused some renters to look for greater apartment square footage as well as common spaces within the building in which to co-work with others. A large increase in pet ownership caused by lockdowns also now causes strong demand for pet-friendly properties.
The strong apartment market nationally is causing many investors to consider investing in apartments and is causing strong demand for apartment loans.  Apartment loan rates remain low as we enter 2022, but the Federal Reserve has indicated their desire to raise rates in 2022 to curtail inflation.  We are watching closely to see what happens with apartment loan rates this year.
States We Provide Apartment Building Financing
Select Commercial Funding offers apartment building financing with premium rates and terms on multifamily financing throughout the United States. We strive to understand the ins and outs of each individual market in the country and to obtain the best financing for our clients no matter where the property is located. Our singular goal is to help you get the best possible multifamily financing in any state throughout the US. Please click the links below to check out our loan programs in each state and do not hesitate to reach out with any inquiries!