Apartment Loans & Commercial Mortgage Loans
Loans from $1 Million to $25 Million+
Commercial Mortgage Rates - Rates updated August 14th, 2022
| Loan Product | Rates (start as low as) | LTV | |
| --- | --- | --- | --- |
| Apartment Loan Rates (Over $6,000,000) | 4.57% | Up to 80% | Get Free Quote |
| Apartment Loan Rates (Under $6,000,000) | 4.70% | Up to 80% | Get Free Quote |
| Business Real Estate Loan Rates | 4.82% | Up to 90% | Get Free Quote |
| Commercial Mortgage Rates | 4.84% | Up to 75% | Get Free Quote |
Free Commercial Property Loan Review
No Application Fees
No Processing Fees
24 hour Pre-Approvals
No Cost & No Obligation
Simple Application Process
Excellent Rates and Terms
Professional Service
Commercial Real Estate Loan Types
Commercial Mortgage Press Releases
Commercial Real Estate Loan Closings
Our Most Popular Commercial Real Estate Financing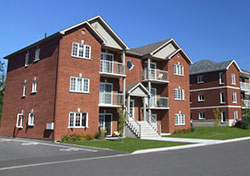 Freddie Mac Multifamily Loans
Freddie Mac multifamily loans
offer incredible financing solutions to investors looking for apartment loans. They provide both fixed rate and floating rate multifamily loans to acquire or refinance a wide variety of multifamily properties. These apartment building loans are used to finance properties such as market-rate apartments, student housing, senior housing, and affordable housing. While
Freddie Mac multifamily loans
have always been one of the industry's most aggressive financing source for larger apartment loans, Fannie Mae used to really dominate the smaller balance market. However, over the last 7 years, Freddie Mac has rolled out their Freddie Mac Small Balance Multifamily Loan program to compete with Fannie Mae in the small balance market. For eligible borrowers, Freddie Mac apartment building loans offer some of the best terms and rates in the market.
Fannie Mae Multifamily Loans
Fannie Mae multifamily loans
provide mortgage capital for conventional, affordable housing, cooperatives, senior housing, student housing, manufactured housing communities and mobile home parks nationwide. The
Fannie Mae apartment loan
program offers many distinct advantages over traditional bank programs, including long-term fixed rates up to 30 years, high LTV ratios up to 80%, and nonrecourse financing (no personal guarantee to the principals). Fannie Mae Multifamily provides long term permanent mortgage loans for the purchase or refinance (cash-out OK) of apartment properties nationwide. Fannie Mae Multifamily loans can be used to finance apartment buildings with at least 5 residential units. No more than 20 percent of net rentable area can be leased out to commercial tenants. Fannie Mae Multifamily is an industry leader in apartment building loans and there terms are incredibly difficult to beat.
Apartment Building Loans
Multifamily financing and commercial real estate loans continues to be a major source of our commercial mortgage lending activities. A strong rental market and low vacancies allow us to be very aggressively priced on apartment building loans. We have a large array of lending programs to cover almost every possible scenario – whether you own an urban hi-rise apartment or a suburban garden apartment, we have the best deals for investment property loans in the market. We service large companies that are looking for large loans, as well as, small owners that only own one building. Everybody's needs are different, and we will work with you to find the best commercial mortgage lender to custom tailor an apartment loan that suits your individual needs. We lend nationwide and our minimum loan size is $1,000,000. We will also consider credit that is not perfect. Please give us a call at 1-877-548-9454, or fill out our Free Loan Request form. Find more information on Apartment Loans here.
Commercial Mortgage Loans
The other major source of our commercial mortgage lending consists of both owner-occupied and investor commercial mortgage loans. We provide commercial mortgage purchase and commercial mortgage refinance loans. Owner occupied properties are those properties where the owner of the property uses the commercial property for his/her own business. Some examples include: medical offices, retail stores, motels and special-use properties like gas stations. Investor properties are those properties where the owner has purchased the property for investment and rents out the property to one or multiple tenants. Some examples include: office buildings, retail centers and warehouse properties. Regardless of which type of property you own, we have the right commercial mortgage loan, and the right commercial mortgage lender to suit your individual needs. For more information, please give us a call at 1-877-548-9454, or fill out our Free Loan Request form. Also, don't forget to check out today's commercial mortgage rates.
Other Types of Commercial Mortgages
At Select Commercial, we offer commercial mortgage loans for all types of commercial properties. We lend on investor properties that are rented out to others, such as, apartment buildings, office buildings, and retail shopping centers, as well as, owner-user properties used by a self-employed business owner such as, retail stores, gas stations, medical offices, and motels. Every different property type requires a specialized analysis of the property and the borrower. We have extensive experience lending on all different types of properties.

Car Wash Loans – we finance self-service and full-service car washes, as well as many other automotive related properties, such as repair shops, auto-body shops, service centers, tire shops and muffler shops.
Gas Station Loans – we have extensive experience lending on branded and unbranded gas stations.
Mobile Home Park Loans – we have special lending programs for mobile home parks, manufactured housing communities, trailer parks and recreational vehicle parks.
Self-Storage Loans – we finance all types of storage facilities, including: indoor climate-controlled facilities, traditional outdoor facilities, RV and vehicle storage facilities and boat storage properties nationwide.
NNN Lease Loans – we have special expertise in financing single-tenant NNN lease properties, including: drugstore chains, dollar stores, national restaurants and big box retailers.
Hotel Loans – we finance full service nationally flagged hotels nationwide.
Motel Loans – we finance flagged and unflagged motels, including seasonal or vacation area properties.
1031 Exchange Financing - we specialize in providing funds to help investors perform 1031 Exchanges by allowing them to swap an existing property with a new (and often larger) replacement property.
Underlying Co-op Loans– we provide underlying loans on cooperative buildings in major urban markets. We do not finance individual units, but provide the underlying loan for the co-op corporation.
Feature Articles We've Written For Commercial Real Estate Publications
How Mortgage Rate Increases are Affecting Commercial Real Estate Investment
In May 2022, the Federal Reserve's Federal Open Markets Committee raised its Federal Funds rate by 50 basis points. In June, the Fed again raised the Federal Funds rate by another 75 basis points. And in mid-July, the Federal Reserve raised rates another 75 basis points. Analysts anticipate that the Fed will continue to raise rates several more times this year in an effort to fight inflation...

Read Full Article
Publication: Wealthmanagement.com
Author: Stephen Sobin - President at Select Commercial Funding LLC
Multifamily Construction Loans Help Developers Finish the Job
An experienced commercial real estate developer was planning on building a 300-unit apartment complex in the Chicago suburbs. As he modeled the project, he considered two options for financing it. The first option was to raise all the equity needed to finance the deal, a route that would tie up much if not all of his personal capital. The second option was to take out a multifamily construction loan to finance the development. After speaking with a commercial mortgage broker, the developer opted to take out the construction loan...

Read Full Article
Publication: Scotsman Guide
Author: Daniel Sobin - Vice President at Select Commercial Funding LLC
Things To Know About Commercial Real Estate Financing
What you need to know about obtaining an apartment loan and apartment loan rates:
Select Commercial specializes in financing apartment loans and has excellent apartment loan rates for purchase or refinance. Many clients ask us for advice when it comes to understanding apartment loan fundamentals, especially as it pertains to valuing apartment properties. We start by looking at the apartment rent roll to see if the units are all occupied (vacancy is usually a red flag) and to see if the units are rented at market levels. Underwriting an apartment loan requires income or cash flow and looking at the rent roll is the first place to start. Next, apartment lenders look at the operating statement. An operating statement will show actual rent collections and all expenses. The difference is the apartment's net cash flow. The net cash flow will determine the size of the apartment loan. Apartment lenders look for solid and stable income when underwriting an apartment loan. Apartment properties that have high vacancy rates or display un-stabilized cash flow will probably be better with an apartment bridge loan until the property qualifies for a standard apartment loan. Also very important to apartment lenders is the location and condition of the property. Lenders prefer properties in urban and suburban areas and will take a hard look at apartment loan requests in rural or tertiary markets. Apartment properties in good or excellent condition are preferred. Properties in need of renovations or displaying deferred maintenance will be highly scrutinized.
Select Commercial can help you with NNN Lease Loans.
We are often asked questions from our clients about investing in Net Lease or NNN properties. Investors love the idea of investing in a property and not having to be responsible for property expenses. We often tell our clients interested in NNN lease properties to, first and foremost, look for high rated credit tenants. Lenders are not bullish on retail right now. However, if you find a highly rated credit tenant with a corporately guaranteed lease (such as Walgreens, CVS, Dollar General, etc.), great rates and terms are available. Secondly, it is crucial to look for properties with longer leases. No lender is interested in financing a property with a short-term lease. We typically like to see at least 10 years remaining on the primary lease. Lastly, scrutinize the location of the property. You are much more likely to get great rates and terms in highly rated markets than in secondary or tertiary markets. Please contact us for any specific questions regarding Credit Tenant Lease Loans.
What you need to know about obtaining a commercial real estate loan for an owner-occupied property.
Owner-occupied properties are properties that are used to house an owner's business. Examples include medical offices, restaurants, general offices, retail stores, motels, etc. Commercial real estate loans are loans that are used to finance the acquisition of these properties or refinance these properties (often to free up equity for other business purposes). The self-employed borrowers that own these properties need to work with lenders who understand and have experience lending to small businesses. Many commercial mortgage lenders do not focus on these properties as they lack the necessary experience working with small business owners. When commercial real estate lenders look at an investment property, they look at the rents collected, the expenses necessary to run the property, and calculate the net operating income. This NOI is used to determine the property's ability to cover the mortgage debt. With properties that are used by the owner, the calculations are different. The lender must understand the entire business operation to determine what income and expenses are attributable to the property and to the business separately. The underlying business must be healthy to take on the debt of a commercial real estate loan. In addition to analyzing the income, lenders also need to understand the owner occupant's credit scores and ratings. The stronger the credit scores, the less risky the loan. Commercial mortgage rates will often be determined by analyzing both the business's income and the credit of the applicant. At Select Commercial, we have over 30 years of commercial real estate financing experience lending to small business owners. Check out our low commercial real estate loan rates and use our commercial mortgage calculator to calculate monthly principal and interest.
Select Commercial can assist you with your 1031 Exchange Financing needs!
Ordinarily, when an investor sells an investment property, the profit realized is subject to capital gains taxes. However, if the investor exchanges the property for another property, the IRS will allow the investor to defer capital gains taxes. This process is called a 1031 Tax Free Exchange. Select Commercial specializes in helping investors utilizing a 1031 Exchange obtain commercial mortgage financing to facilitate the new purchase. Please contact us for more details on 1031 Tax Free Exchange Financing. (Always consult your tax advisor for specific advice when it comes to your tax situation).