About Us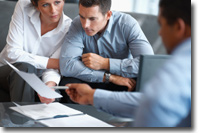 The professionals at Select Commercial Funding LLC are commercial mortgage consultants focused on providing the best financing solutions for each deal and every client. We manage every detail of the loan process from start to finish and are proud of the reputation we've established with our clients. We act as your professional commercial real estate loan advisor to help find the optimal financing solutions for you by offering personalized service and custom tailored loan programs to suit your individual needs. From small loans to large loans, we deliver the results that have earned the trust and confidence of borrowers and lenders nationwide.

We are a nationwide commercial mortgage broker specializing in all types of commercial mortgage loans, Apartment Loans, Freddie Mac Multifamily Loans, and credit tenant lease loans.
Our Reviews
Select Commercial Funding LLC reviews
Our customers have very nice things to say about our service and our rates. If you would like to see Select Commercial reviews, please CLICK HERE.
Recent TRUSTPILOT Reviews
Select Commercial Funding Reviews from TRUSTPILOT

A three year journey
"Thanks Stephen for all of your hard work in getting our deal closed! I appreciate your professionalism and patience throughout a complicated process. You always were there for my partner and I whenever we had questions and needed answers quick. It was a pleasure to have worked with you and Select Commercial!"
Our Advantages
Experience
Select Commercial Funding LLC has over 30 years of experience originating commercial mortgage loans and dealing with a wide variety of lenders: banks, insurance companies, conduit lenders, private real estate lenders, credit unions, Wall Street investment banks, Agency lenders, etc. We spend an enormous amount of time maintaining these relationships, which is essential in today's ever changing market.
Analysis
Select Commercial Funding LLC is focused on providing the best commercial mortgage financing solutions for each client's needs. We analyze the borrower's current situation to determine the best and optimal solution going forward – even if it means recommending alternative financing elsewhere. Our ability to prescreen and underwrite deals in house for viability saves weeks of processing time and leads to faster closings.
Presentation
Select Commercial Funding LLC presents loan packages and loan requests that stand out and get a lender's prompt attention. Our local market knowledge and the ability to identify the right source for each borrower's request has earned us the trust and respect of borrowers nationwide.
Read More About Our Advantages
Our President
Stephen A. Sobin is the President and Founder of Select Commercial Funding LLC. Mr. Sobin has over 30 years' experience in commercial real estate lending.  In 1981, he founded State-Wide Capital Corp., one of the leading home equity loan providers in the country.  The company was well known through its extensive television, radio and newspaper advertisements promoting its 1-800-DIAL-CASH phone number.  In 1995, Mr. Sobin sold State-Wide Capital to Superior Bank FSB, a federal savings bank headquartered in Illinois.  Mr. Sobin remained with Superior until 1997 as the President of a mortgage lending division of the bank.