Commercial Mortgage Refinance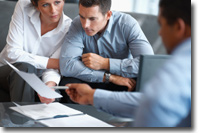 Select Commercial offers many commercial refinance programs for all types of commercial properties. If you are looking to lower your existing rate, refinance a maturing loan, or need to take cash out for another investment, now is the right time for a commercial mortgage refinance as rates are currently at historic lows.  Most commercial mortgage refinance lenders today make loans with rates that are only fixed for 3-5 years.  After the fixed rate period, the loan will either adjust or contain a balloon payment.  If your current loan is set to adjust or balloon in the near future, you might want to see what Select Commercial can offer.  Today's commercial mortgage refinance rates for well qualified borrowers are as low as:
Business Real Estate Refinance
As of , rates start at
4.30%
Minimum Loan Size $1,000,000
Get a Quote
Apartment Building Refinance
Apartment building lending is one of our major specialties, and we are a nationwide leader in providing funds for the purchase or refinance of apartment properties.  We have many capital sources for apartment loans, including:  national, regional, and local banks, insurance companies, Wall Street conduit lenders, agency lenders (Fannie Mae and Freddie Mac), credit unions, hedge funds, and private lenders.  Our myriad of capital source and nationwide experience allow us to offer very aggressive rates and terms. We offer apartment building loans from $1,000,000 on buildings with a minimum of 5 units.  We typically offer fixed rates for 5, 7, or 10 years (although we can offer up to 30 year fixed rates).  We offer amortizations up to 30 years, and many of our loans are offered non-recourse (no personal guaranty).

For more information on obtaining a small balance apartment loan see our article Select Commercial Specializes in Small Balance Apartment Loans.
Commercial Mortgage Refinance
Rates today for commercial mortgage refinancing remain very low for all types of commercial properties. If you have a higher rate loan, a maturing balloon payment, or need cash out to invest elsewhere, this would be a great time to consider a commercial refinance with Select Commercial.  We are currently lending on the following property types: office buildings, retail or shopping center properties, industrial and warehouse properties, hotels and motels, and single use and specialty use properties (such as restaurants, gas stations, and single tenant owner-occupied properties).  Our minimum loan size is $1,000,000 (although we prefer loans over $1,000,000) and we will lend nationwide in all suburban and urban markets. Properties in very rural markets will be considered on a case-by-case basis.  We typically offer fixed rates for 5, 7, or 10 years, with amortizations up to 25 years. 

For more information on what commercial mortgage lenders look for in determining the rate you receive, please see our blog article How to Qualify for the Best Commercial Mortgage Rate.
Business Real Estate Refinance
If you're a self-employed business owner looking to refinance your business real estate property, look no further than Select Commercial. Our business real estate refinancing rates remain low for many types of businesses, including: doctor's and dentist's offices, hotels, motels, gas stations, convenience stores, laundromats, warehouses, industrial facilities, auto repair, retail stores, self-storage, day care, liquor stores, assisted living facilities and other professional offices, etc.  Many of these property types will qualify for loans up to 90% loan-to-value, assuming they are owner-occupied. Physicians, dentists, veterinarians, and other medical professionals may qualify for up to 100% financing for their medical practices, including working capital. Like other types of commercial mortgage loans, the borrower's credit worthiness and property details will determine the rate and terms of the loan.

If you would like to consider a commercial refinance of your current commercial mortgage loan, please contact us before rates increase.  Call us today at 877-548-9454 or click here for a Free Loan Request.