Freddie Mac Apartment Loan Program - Small Balance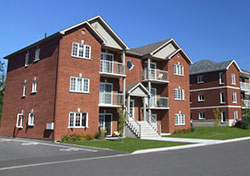 Freddie Mac is another nationwide source of mortgage capital for apartment building financing. The Freddie Mac small balance apartment loan program offers many unique and beneficial features for apartment purchases and refinances, with a minimum loan size of $1,500,000. The loan application process is simple and streamlined. As an example, tax returns for the borrower and the property are not required. Loans typically close in 45 days and the program has much lower costs than other government or agency programs. Loans are non-recourse, which means that the borrower is not required to guarantee payments personally. Prepayment penalties are flexible, ranging from yield maintenance to soft stepdown. Perhaps the best feature is that Freddie Mac offers a free rate hold for 45 days from application. If rates change during the processing period, the loan rate is automatically held from the date of application.

As a market leader in multifamily financing, Freddie Mac can handle complex transactions and provide certainty of execution.

Loan Amount
$1,500,000 - $6,000,000, up to $7,500,000 in large markets

Loan Purpose
Purchase or refinance, including cash out refinances

Amortization
Up to 30 years

Property Types
Apartment buildings of 5+ units, senior housing (with no resident services), apartment buildings with commercial space, properties with tenant-based housing vouchers, etc.

Debt Service Coverage
1.20x in top markets, 1.25x nationwide

Maximum Loan to Value
80% in top markets, 75% nationwide

Loan Terms
5, 7, and 10 year fixed rate options.  After fixed rate period loan can either mature or convert to an adjustable rate (hybrid adjustable) at borrower option.

Recourse
Non-Recourse, with standard carve-out provisions

Credit Score
Minimum of 650

Interest Only
Typically, 1-3 years of interest only are offered with slight adder to rate.  Full term I/O might be available on lower leverage loans.

Occupancy
Minimum occupancy of 90% for previous 90 days

Taxes/Insurance
Escrows for taxes and insurance may be waived on lower leverage transactions

Replacement Reserves
Not usually required

Rate Lock
Rate held for 45 days from application without additional fee.  No worries that rate will rise during the application period.

Adjustments
Annual and lifetime caps on all adjustments (on hybrid/adjustable option)

Assumable
Yes

Prepayment Penalties
Yield maintenance, step-down and soft step-down options available

The Freddie Mac SBL program offers a combination of benefits and features not available anywhere else.  Whether your objective is to buy additional property, get a lower rate on an existing loan, or take cash out of an existing property, Freddie Mac has the strength and expertise to get you to the closing table faster than most other lenders.
Recent TRUSTPILOT Reviews
Select Commercial Funding Reviews from TRUSTPILOT

A three year journey
"Thanks Stephen for all of your hard work in getting our deal closed! I appreciate your professionalism and patience throughout a complicated process. You always were there for my partner and I whenever we had questions and needed answers quick. It was a pleasure to have worked with you and Select Commercial!"