Multifamily Bridge to HUD Loans
Our FHA HUD Multifamily Loan Benefits
FHA HUD Multifamily Loan rates start as low as 5.97% (as of December 5th, 2023)
• A commercial mortgage broker with over 30 years of lending experience
• No upfront application or processing fees
• Simplified application process
• Financing up to 85% LTV
• Terms and amortizations up to 35 years
• Long term fixed rates
• Quick pre-approvals with no cost and no obligation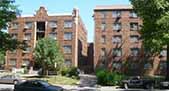 One of the biggest issues potential HUD borrowers face is the timing it takes to close a multifamily HUD loan. These loans can take anywhere between 5 and 10 months to close depending on market conditions and the location of the property. This timing is a particular concern for investors looking to purchase multifamily buildings. Most sellers will simply not sit around waiting over half a year to sell their property. In order to solve this problem, we help borrowers obtain bridge to HUD financing. The purpose of this program is to allow borrowers to purchase multifamily properties with very attractive bridge rates and terms and to then transition that bridge loan seamlessly into a permanent HUD loan after closing. We underwrite the bridge loan in accordance with HUD standards to help minimize the potential burden of closing two loans. The bridge loan appraisal and third-party reports are used for the HUD loan portion as well. In effect, there really is only one underwriting process as the whole goal of this program is to ultimately help our borrowers obtain permanent FHA HUD multifamily loans.
Multifamily Bridge to HUD Loans Loan Program Terms and Guidelines
Sample Multifamily Bridge to HUD Terms
Loan Amount- Up to 75-80% LTV
Interest Rate- Margin over the SOFR
Term Length- Generally 12 months of interest only payments
Recourse- Generally non-recourse with standard bad boy carveouts
Exit Fees- Generally waived at HUD refinance
---
---
Recent TRUSTPILOT Reviews
Select Commercial Funding Reviews from TRUSTPILOT

A three year journey
"Thanks Stephen for all of your hard work in getting our deal closed! I appreciate your professionalism and patience throughout a complicated process. You always were there for my partner and I whenever we had questions and needed answers quick. It was a pleasure to have worked with you and Select Commercial!"