Bronx Commercial Mortgage Loans
$1,000,000 Minimum
Bronx Commercial Mortgage Rates - Rates updated June 23rd, 2021
| Loan Product | Rates (start as low as) | LTV | |
| --- | --- | --- | --- |
| Multifamily Mortgage Rates (Over $6,000,000) | 2.57% | Up to 80% | Get Free Quote |
| Multifamily Mortgage Rates (Under $6,000,000) | 3.17% | Up to 80% | Get Free Quote |
| Single Tenant Lease Rates | 3.42% | Up to 75% | Get Free Quote |
| Business Real Estate Loans | 3.67% | Up to 90% | Get Free Quote |
| Commercial Mortgage Rates | 3.67% | Up to 75% | Get Free Quote |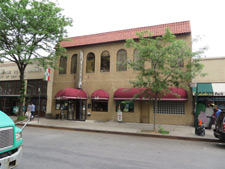 Select Commercial is a leading commercial real estate lender. We have excellent commercial mortgage loan products and options available for owners and purchasers of commercial real estate and multifamily buildings throughout the borough of Bronx. While we lend across the entire continental United States, we are able to give our best rates and loan programs to certain areas that we feel are strong markets. Bronx is one of the boroughs that we consider to be a premium market and we actively look to originate good quality loans here for our clients. We have a diverse array of many available loan products to help qualified Bronx borrowers looking to purchase or refinance a commercial property. If you are looking to obtain an multifamily building loan or commercial real estate loan, don't hesitate to contact us. There are many reasons why our customers like doing business with Select Commercial. We have a simplified application process and we do not charge any upfront application or processing fees. We typically offer 24-hour pre-approvals with no-cost and no-obligation. Our long term fixed rates are excellent, and we look to close within 45 days of application. Our staff is professional and knowledgeable, and we look forward to working with you on your next commercial mortgage transaction. We arrange financing in the borough of Bronx for the following:
Bronx Commercial Mortgage Benefits
Bronx commercial mortgage rates start as low as 2.57% (as of June 23rd, 2021)
• No upfront application or processing fees
• Simplified application process
• Up to 80% LTV on multifamily, 75% on commercial (90% with SBA)
• Terms and amortizations up to 30 years
• Loans for purchase and refinance, including cash-out
• 24 hour written pre-approvals with no cost and no obligation
Recent TRUSTPILOT Reviews
Select Commercial Funding Reviews from TRUSTPILOT

A three year journey
"Thanks Stephen for all of your hard work in getting our deal closed! I appreciate your professionalism and patience throughout a complicated process. You always were there for my partner and I whenever we had questions and needed answers quick. It was a pleasure to have worked with you and Select Commercial!"
Bronx Multifamily Loan Information
Move-Ins by Technology Firms Foretell New Multifamily Renter Demand; Investors Respond to Legislative Reforms
New tenant leases outpace supply, keeping vacancy near its lowest practical level. An expanding technology presence in Bronx, with Amazon, Google and Facebook opening sizable offices in the near future, will help continue diversifying the apartment market's economy. The new job opportunities will add to the metro's extensive housing needs, both within Bronx and across the surrounding boroughs. While the market is poised to welcome new sources of renter demand, the pace of multifamily completions is moderating. Fewer apartment units will open in 2020 than in any year since 2015. Though many apartments will arrive in Bronx, Brooklyn will receive the largest share of multifamily deliveries, as has been the case for the past three years. Across all five boroughs, reduced supply growth will keep vacancy at a near-20-year low of 1.5 percent this year. Virtually full occupancy is contributing to higher apartment rent growth among market-rate units. That trend may be aided by declining competition from new value-add multifamily projects as recently imposed restrictions have effectively halted the conversion of rent-regulated multifamily units to market-rate apartments. Investors looking to purchase property in the Bronx market should definitely look into taking out an apartment loan to finance their acquisition.
New regulations foster uncertainty for a major segment of the investment landscape. The New York multifamily market enters 2020 in a state of flux following the enactment of new legislation governing rent-regulated apartments in June of last year. While the city remains an active commercial real estate investment destination, transaction velocity declined markedly during the second half of 2019, likely stemming from rent reform. Multiple avenues for converting rent-stabilized apartment units to market rates have been repealed and the financial feasibility to conduct capital improvements has been hampered. Many investors of these multifamily assets will most likely have to reevaluate their strategies. Some will shift their focus toward unregulated newer assets or apartment properties with a mixed-use component. Cap rates on trades completed since the legislation change have faced upward pressure largely driven by slackened buyer demand in the face of uncertainty. Bronx is a great market for investors to finance their next apartment purchase with a multifamily loan.
2020 Bronx Apartment Market Forecast
Bronx's National Multifamily Index Rank is at 10, down 7 places. Caution regarding New York's new rental public policy reduces Bronx's place in the 2020 Index ranking.
Employment in Bronx is up 1.4%. Education, healthcare, and technology hiring form the basis for a 65,000-person payroll expansion this year following the creation of 75,000 jobs in 2019.
Construction in New York City is expected to exceed 15,200 apartment units. Construction activity continues to trend down as about 3,700 fewer apartments will open this year compared with 2019. Development remains most active in Brooklyn and Bronx.
Vacancy in Bronx will remain unchanged at 1.5 percent as supply and demand maintain virtual parity.
Rent in Bronx is up 2.4%. The average effective rent will climb to $2,833 per month, dipping from last year's 3.1 percent growth rate.
Investment opportunities in Bronx remain strong for those looking to finance their next purchase with an apartment loan. Institutions remain active in Bronx and the western edges of Brooklyn and Queens, while private investors are moving farther east to neighborhoods such as Bushwick. We highly recommend any investors looking to buy in the Bronx market to reach out to us regarding a multifamily loan.
Data provided by Marcus & Millichap.
Apartment Loan Trends in 2020
At the start of 2020 the market outlook did not indicate any significant factors that would cause major trouble in the multifamily market. Market indicators suggested that demand for housing, especially for apartment rentals, would remain healthy, thus continuing to generate new construction of multifamily buildings. Both the high number of permits and starts over the past couple of years led experts to believe that developer confidence is very high in the multifamily market. Market experts predicted an annual completion of 340,000 apartment units over 2020, way above the 300,000-annual average for the past five years. Over the last couple of years, the multifamily market has seen absorptions outperform expectations due to both changes in lifestyle and demographic preferences and new supply has consistently taken longer to be built. These two factors have helped the market to perform stronger than expected in the past and should continue throughout this year. Market data indicated that rent growth would remain strong in 2020, growing 3.6% (which is above the historical average). In terms of mortgage origination, low interest rates and strong multifamily performance were expected to help loan volumes grow. Experts predicted that the origination volume in 2020 will increase by 5.7% to $390 billion. Market data indicated that cap rates have more room to decline, which would lead to increasing property values and should drive up origination volume. However, with the current outbreak of Covid-19, the overall economy has been in flux. The stock market has crashed and commercial mortgage interest rates have been severely impacted. Huge metros such as New York have all but shut down much economic activity and entertainment. In this unsteady climate, many investors are scared to purchase commercial real estate and to take out commercial mortgages and apartment loans. Additionally, the oil industry has taken a big hit. Not only are people traveling less due to the pandemic, foreign countries like China and Russia are involved in a huge price war which is driving the price of oil way down. Experts are hopeful that as the weather warms up and public health policy learns how to handle this pandemic, the economy should revert back to its pre-virus strength.
What Happened with Apartment Loans in 2019
The multifamily market ended the 2019 year on a high note. Despite increased levels of new units entering the market, the apartment sector maintained strong and steady growth throughout the year. Vacancy rates throughout the country remained fairly stable, easing investors' concerns of a significant decline in occupancy due to the high sum of multifamily units delivered. Furthermore, rent growth on the national and metropolitan levels remained healthy throughout the year. While 2019 rent growth was more modest than 2018, it was in line with 2016 and 2017 levels and remained above the national historic average of 3.4%. Based on data provided by the U.S. Census Bureau, multifamily completions increased slightly in 2019 when compared with 2018. The data also show that reported permit growth has increased 3% and starts are up 2%. Although 2019 data is not yet fully complete, these metrics suggest that the supply will remain elevated over the next few years. In terms of multifamily mortgage origination, the most up to date information has surpassed expectations. Mortgage Bankers Association reported that the 2018 mortgage volume came in at about $339 billion, an increase of 18.9% from 2017. While the actual 2019 numbers will not be available until later this year, experts estimate that due to solid fundamentals, low interest rates and heightened demand for multifamily investments, the total origination volume last year was about $369 billion.

The 2019 economy thrived overall. Throughout the year 2.1 million jobs were added which were in line with 2017 number (although it fell short of the 2018 total of 2.7 million). The unemployment rate also continued to decrease in 2019 as it went down 50 basis points to 3.5% at the end of the year. This number matched the lowest unemployment rate in fifty years. The labor market heavily supported increased salaries, as indicated by the 2.8% annual growth in the Employment Cost Index as of September of 2019. While these gains were below the expected amount for a market with such a low unemployment rate they were above the average for the past decade. At the beginning of the year many investors were concerned due to expectations of a recession. There were many indicators that supported this concern such as inverted two and ten year yield curves, an unanticipated rise in the June unemployment rate of ten basis points, an unstable stock market and slowed job growth. However, during the third and fourth quarters of 2019, the economy improved as job growth rose, the unemployment rate fell. This economic improvement has had a clear impact on the multifamily market as more investors are feeling bullish on putting their money into this asset class.
Bronx Commercial Mortgage Loan Options
Our staff is professional and knowledgeable, and we look forward to working with you on your next commercial mortgage transaction. We arrange financing in the city of Bronx for the following:
Multifamily Building Loans – we actively lend on garden apartments, high-rise multifamily buildings, student housing complexes, underlying cooperatives, and all other types of residential dwellings. We consider loan requests up to 80% LTV. We offer loans with and without recourse (personal guarantees) and with and without prepayment penalties. We offer fixed rate loans with terms from 3 to 30 years.
Office Building Loans – we lend on all types of office properties, including multi-tenant and single tenant buildings in all locations. We lend on both owner occupied and investor properties. We typically lend up to 75% LTV on investor properties and up to 90% on owner occupied properties. Most loans are written for either 5, 7, or 10 years at a fixed rate with a 25-year amortization.
Retail Building Loans – we gladly consider requests for commercial mortgage loans on shopping centers, retail strip centers, and individual retail stores. We are a little bit more conservative on retail loans these days based on the current climate for retailers and will consider LTV ratios of 65%-75% depending on the deal. We actively lend on NNN single tenant retail locations such as Starbuck's, CVS, Walgreens, Dollar General, and other national credit rated tenants.
Industrial Property Loans – we love to lend on warehouses, distribution centers, manufacturing facilities and other industrial properties. Often, these properties are owner occupied by the owner's business. We also lend on multi-tenant industrial properties as well. We look for properties in good locations with access to population centers and transportation.
Single/Special Use Loans – we have a special lending division that understands small business lending secured by owner occupied businesses such as motels, gas stations, restaurants, car washes, retail stores, and other specialty properties. Many banks have a hard time with this type of lending as they often do not understand the underlying businesses.
Investment Property Loans – any and all income producing property will be considered. We are cash flow driven lenders and look for properties that generate positive cash flow for their owners. We will consider portfolios of single family residences under this group.
Bridge Loans – many borrowers do not qualify for regular institutional financing due to various short-term obstacles which need to be resolved before they can qualify for bank type financing. These borrowers often require short term loans, or bridge loans, to overcome these short-term problems.
Our company has multiple capital sources for these loans, including: national banks, regional and local banks, Fannie Mae, Freddie Mac, FHA, HUD, insurance companies, Wall Street conduit lenders (CMBS deals), credit unions and private lenders/hedge funds. Whether you are purchasing or refinancing, we have the right solutions available. We will entertain loan requests of all sizes, beginning at $1,000,000. Get started with a
Free Commercial Mortgage Loan Quote
.
Bronx Commercial Mortgage Loans
Select Commercial provides commercial mortgage loans and multifamily financing throughout Bronx and the state of New York including, but not limited to, the areas below.
• Baychester • Marble Hill • Soundview • Bedford Park • Melrose • The Hub • Belden Point • Morris Heights • Throggs Neck • Castle Hill • Morris Park • Tremont / East Tremont • City Island • Morrisania • University Heights • Concourse • Mott Haven • Van Nest • Downtown Bronx • Mount Eden • Wakefield • Edenwald • Norwood • West Farms • Fordham • Parkchester† • Williamsbridge • Harding Park • Pelham Bay • Woodlawn • Highbridge • Pelham Gardens • Hunts Point • Pelham Parkway • Kingsbridge • Riverdale