Fannie Mae ARM 7-6 Multifamily Loan
Our Fannie Mae Multifamily Loan Benefits
Fannie Mae Multifamily Loan rates start as low as 5.72% (as of December 3rd, 2023)
• A commercial mortgage broker with over 30 years of lending experience
• No upfront application or processing fees
• Simplified application process
• Financing up to 80% LTV
• Terms and amortizations up to 30 years
• Long term fixed rates
• Loans for purchase and refinance, including cash-out
• 24 hour written pre-approvals with no cost and no obligation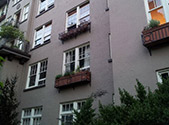 The Fannie Mae ARM 7-6 Multifamily Loan is a great option for investors looking for an adjustable loan. This product has a loan term of 7 years, and allows up to 80% LTV. Additionally, borrowers can convert the Fannie Mae ARM 7-6 into a fixed-rate loan any time between the first day of the second year and the first day of the sixth year of the loan. This provides wonderful flexibility for multifamily investors who are interested in starting with an adjustable rate but converting into a fixed rate at some point during the loan term.
Fannie Mae ARM 7-6 Multifamily Loan Highlights
Loan Term - 7 years
Amortization - Up to 30 years
LTV - Up to 80%
DSCR - Minimum of 1.00x at the maximum lifetime interest rate
Interest Rate Adjustments:
Equal to index + spread. Will adjust with changes to underlying index
Index - 30- Day Average SOFR
Interest Rate Cap and Floor:
Maximum monthly interest rate adjustment of plus or minus 1%.
Maximum lifetime interest rate to Borrower capped at 6%
Interest rate will never be less than the Margin
Property Eligibility:
Available for existing and stabilized multifamily properties including: Conventional, Multifamily Affordable Housing, Seniors Housing, Student Housing, and Manufactured Housing Communities
Loans are available for both acquisitions and refinances
Rate Lock
Maximum 30-day commitments
Prepayment:
No prepayment is permitted during the Lockout Period which is usually the first year of the loan
After Lockout Period, 1% prepayment premium
No prepayment premium during the "open period"- the last 3 months of the loan term.
Recourse:
Loans are non-recourse with standard "bad boy" carveouts
Fixed-Rate Conversion:
The ARM 7-6 can be converted to a 7 or 10 year fixed loan any time between the first day of the second year of the loan and the first day of the sixth year of the loan, without any prepayment penalties. The amount of the loan cannot increase, but borrowers can apply for supplemental financing. Converted loans have a yield maintenance prepayment penalty. Conversion requires minimal re-underwriting. However, the lender must confirm that the current Net Cash Flow can support the new fixed rate loan terms.
Other terms and benefits:
Low Cost Financing
No maximum loan size
Maximum interest rate is set at rate lock
Supplemental financing is available
Escrows are typically required for taxes, insurance and replacement reserves
Loans are assumable
---
---
Recent TRUSTPILOT Reviews
Select Commercial Funding Reviews from TRUSTPILOT

A three year journey
"Thanks Stephen for all of your hard work in getting our deal closed! I appreciate your professionalism and patience throughout a complicated process. You always were there for my partner and I whenever we had questions and needed answers quick. It was a pleasure to have worked with you and Select Commercial!"