Fannie Mae Apartment Loans - Small Balance
Our Fannie Mae Multifamily Loan Benefits
Fannie Mae Multifamily Loan rates start as low as 5.97% (as of September 26th, 2023)
• A commercial mortgage broker with over 30 years of lending experience
• No upfront application or processing fees
• Simplified application process
• Financing up to 80% LTV
• Terms and amortizations up to 30 years
• Long term fixed rates
• Loans for purchase and refinance, including cash-out
• 24 hour written pre-approvals with no cost and no obligation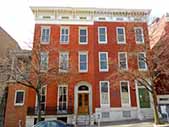 Fannie Mae is one of the nation's leading secondary market sources of capital for apartment building financing. The Fannie Mae Apartment Loans - Small Balance program provides mortgage capital for conventional, affordable housing, cooperatives, senior housing, student housing, manufactured housing communities and mobile home parks nationwide. The Fannie Mae apartment loans - small balance program offers many distinct advantages over traditional bank programs, including long-term fixed rates up to 30 years, high LTV ratios up to 80%, and nonrecourse financing (no personal guarantee to the principals). Fannie Mae offers first lien permanent financing for the acquisition or refinance (including cash-out) of multifamily properties nationwide.
Fannie Mae Apartment Loans - Small Balance Highlights
Description
Simplified loan approval process for long term fixed rate financing for apartments, manufactured housing, mobile home parks, and cooperative apartments.

Loan Amount
$1,500,000 – $6,000,000+ nationwide (larger balance loans available through the Fannie Mae DUS platform)

Loan Terms
Fixed rates for 5, 7, 10, 12, 15, 20 and 30 years

Amortization
Up to 30 years, based on the age and condition of the property

Prepayment Penalty
Yield maintenance and step-down options available

Recourse
Loans are non-recourse lending (with standard carve-outs for "bad-boy" acts)

Debt Service Coverage
1.25x minimum

Loan to Value
Up to 80% maximum LTV for purchases and 75% for refinances

Subordinate Financing
Supplemental mortgages are available after the first 12 months of the loan term or loan assumption

Occupancy
Typically expect to see 90% occupancy for the previous 3 months

Assumability
Non-recourse loans are assumable with the Lender's consent

Taxes and Insurance Escrows
May be waived on lower LTV loans

Net Worth and Liquidity
Net worth and liquidity requirements must be met.  Speak to us for details.

Replacement Reserve Escrows
To be determined based upon appraisal and engineering reports

Rate Lock
Rate lock occurs after commitment is issued; an early rate lock option is also available

Timing
45-60 days from complete application to closing
---
---
Recent TRUSTPILOT Reviews
Select Commercial Funding Reviews from TRUSTPILOT

A three year journey
"Thanks Stephen for all of your hard work in getting our deal closed! I appreciate your professionalism and patience throughout a complicated process. You always were there for my partner and I whenever we had questions and needed answers quick. It was a pleasure to have worked with you and Select Commercial!"