Sacramento Commercial Mortgage Loans
$1,000,000 Minimum
Sacramento Commercial Mortgage Rates - Rates updated May 7th, 2021
| Loan Product | Rates (start as low as) | LTV | |
| --- | --- | --- | --- |
| Multifamily Mortgage Rates (Over $6,000,000) | 3.00% | Up to 80% | Get Free Quote |
| Multifamily Mortgage Rates (Under $6,000,000) | 3.27% | Up to 80% | Get Free Quote |
| Single Tenant Lease Rates | 3.50% | Up to 75% | Get Free Quote |
| Business Real Estate Loans | 3.75% | Up to 90% | Get Free Quote |
| Commercial Mortgage Rates | 3.75% | Up to 75% | Get Free Quote |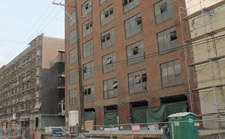 Select Commercial is a leading commercial real estate lender. We have excellent commercial mortgage loan products and options available for owners and purchasers of commercial real estate and multifamily buildings throughout the city of Sacramento. While we lend across the entire continental United States, we are able to give our best rates and loan programs to certain areas that we feel are strong markets. Sacramento is one of the cities that we consider to be a premium market and we actively look to originate good quality loans here for our clients. We have a diverse array of many available loan products to help qualified Sacramento borrowers looking to purchase or refinance a commercial property. If you are looking to obtain a multifamily building loan or commercial real estate loan, don't hesitate to contact us. There are many reasons why our customers like doing business with Select Commercial. We have a simplified application process and we do not charge any upfront application or processing fees. We typically offer 24-hour pre-approvals with no-cost and no-obligation. Our long term fixed rates are excellent, and we look to close within 45 days of application.
Sacramento Commercial Mortgage Benefits
Sacramento commercial mortgage rates start as low as 3.00% (as of May 7th, 2021)
• No upfront application or processing fees
• Simplified application process
• Up to 80% LTV on multifamily, 75% on commercial (90% with SBA)
• Terms and amortizations up to 30 years
• Loans for purchase and refinance, including cash-out
• 24 hour written pre-approvals with no cost and no obligation
Recent TRUSTPILOT Reviews
Select Commercial Funding Reviews from TRUSTPILOT

A three year journey
"Thanks Stephen for all of your hard work in getting our deal closed! I appreciate your professionalism and patience throughout a complicated process. You always were there for my partner and I whenever we had questions and needed answers quick. It was a pleasure to have worked with you and Select Commercial!"
Sacramento Multifamily Loan Information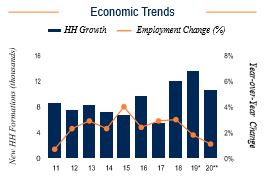 Healthcare Services Provide Framework for Economic Growth; Buyer Competition Pressures Asset Values
Collection of demand drivers prolong stretch of robust multifamily rent growth. Sacramento's populace grew by 100,000 people over the past four years, drawn by the area's comparatively lower cost of living. During 2020, the metro continues to welcome a collection of new residents, many of whom will accept positions in the expanding healthcare sector. This industry is delivering strong growth following the completion of several large medical office buildings and the upcoming delivery of Centene's 68-acre campus in Natomas, which will employ up to 5,000 people. An additional campus for Kaiser Permanente is planned for the Railyards District, an infill site that will also house a soccer stadium for Sacramento Republic FC. With economic expansion and steady household growth on the horizon, an uptick in multifamily deliveries is warranted. Of the 1,400 apartment completions slated for finalization this year, most are located in Sacramento or Folsom. New apartment supply targeted in areas with high rental demand will allow overall absorption of apartments to slightly outpace the metro's growing inventory. The resulting decline in multifamily unit availability will push up the average effective rent, with Sacramento ranking as the top West Coast metro for rate growth in 2020. Investors looking to purchase multifamily property in the Sacramento market should definitely look into taking out an apartment loan to finance their acquisition.
Escalating rents and catalysts for economic expansion bolster investor confidence. Opportunities to acquire multifamily properties of various sizes will attract a diverse buyer pool of instate buyers this year. Those looking to deploy less than $5 million per transaction target apartment buildings in Sacramento's downtown, where well-located multifamily assets remain available at high- 4 to 6 percent cap rates. Investors willing to place more capital will concentrate on Arden/ Arcade, Carmichael and other close-in suburbs, where sub-$150,000 per apartment unit pricing and 5 to 6 percent-plus first-year yields remain frequent. Properties in Folsom and other affluent suburbs are coveted by investors as these areas are experiencing metro-leading rent growth, yet opportunities to acquire complexes in these locales should remain sparse, driving asset values moving forward. Sacramento is a great market for investors to finance their next apartment purchase with a multifamily loan.
2020 Sacramento Multifamily Market Forecast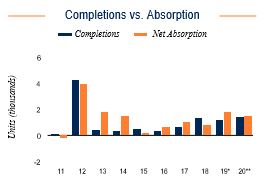 The Sacramento National Multifamily Index Rank is at 9, up 2 places. Sturdy performance gains amid limited construction places Sacramento into the top 10 in the 2020 NMI.
Employment in Sacramento is up 1.1%. Health-related job creation remains strong as the overall hiring velocity with 11,000 jobs falls below last year's 1.8 percent gain.
Construction in Sacramento is expected to exceed 1,400 apartment units. Delivery volume surpasses the 1,000-unit mark for a third consecutive period, with roughly half of the apartments located in the city of Sacramento.
Vacancy in Sacramento is down 10 bps. Net absorption eclipses 1,500 units in 2020, lowering metro vacancy to 3.1 percent amid an increase in supply additions.
Rent in Sacramento is up 5.1%. The average effective rent rises at a rapid pace, reaching $1,582 per month. Last year the average rent grew by 6.5 percent.
Investment opportunities in Sacramento remain strong for those looking to finance their next purchase with an apartment loan. Owners that have executed recent value-add conversions in close-in submarkets could reevaluate their portfolio as California's new rent regulation law could impact their current investment strategy. We highly recommend any investors looking to buy in the Sacramento market to reach out to us regarding a multifamily loan.
Data provided by Marcus & Millichap.
Commercial Mortgage Rate Trends in 2020
At the beginning of 2020 the overall market outlook did not suggest any crucial factors that would negatively impact the commercial mortgage market. Commercial mortgage lenders and investors expected a very profitable 2020. Almost 65 percent of the top commercial real estate companies believed that commercial mortgage loan originations would go up this year and over 15 percent anticipated an overall rise of over 5 percent. Data released at the beginning of 2020 indicated that commercial mortgage lenders were expected to close over $680 billion of commercial mortgage loans this year. Experts were of the belief that commercial mortgage lenders would remain bullish about making loans. In addition, as commercial mortgages rates were expected to go down most industry leaders were convinced that borrowers in 2020 will have a strong desire to take out commercial mortgage loans. However, with the recent outbreak of the Covid-19 pandemic, the US and global economy has been incredibly unstable. The stock market seems to be bottoming out and commercial mortgage rates have been hit very hard. While the Fed has dropped short term interest rates, long term commercial mortgage rates have actually been rising. Huge cities like New York are shutting down. In this economic climate, many investors are scared to purchase commercial real estate and to take out commercial mortgages. Additionally, the oil industry has been hit hard. Not only are people traveling less due to coronavirus, China and Russia are currently involved in a price war which is driving the price of oil way down. Many people are optimistic that as spring and summer roll in and public health officials learns how to handle this pandemic, the economy should regain its strength.
What Happened with Commercial Mortgage Rates in 2019
As we review the 2019 year, the commercial real estate market continued to flourish as the longest economic recovery in American history continued. Due to both GDP growth and a steady decline in the unemployment rate, 2019 saw the stock market make huge gains. Many investors thought that commercial mortgage rates would go up last year. However, in actuality commercial mortgage rates actually went down three times. These interest rates helped to spur investors to put more money into commercial real estate. With regards to commercial mortgage loan origination, the 2019 fiscal year far exceeded expectations due to solid fundamentals, low interest rates and higher demand for commercial mortgages. While 2018 commercial mortgage volume totaled about $339 billion, an increase of 18.9% from 2017, the 2019 numbers total about $369 billion. On a larger scale, the 2019 economy prospered overall. Over the course of the year about 2.1 million jobs were added to the market. In addition, the unemployment rate decreased about 50 basis points last year, matching the lowest unemployment rate in fifty years. At the beginning of 2019 many investors were expecting a recession. However, the economy improved as job growth rose and the unemployment rate decreased. This economic improvement had an immensely positive impact on the commercial real estate market as more investors rushed to put their money into commercial properties.
Sacramento Commercial Mortgage Loan Options
Our staff is professional and knowledgeable, and we look forward to working with you on your next commercial mortgage transaction. We arrange financing in the city of Sacramento for the following:
Multifamily Building Loans – we actively lend on garden apartments, high-rise multifamily buildings, student housing complexes, underlying cooperatives, and all other types of residential dwellings. We consider loan requests up to 80% LTV. We offer loans with and without recourse (personal guarantees) and with and without prepayment penalties. We offer fixed rate loans with terms from 3 to 30 years.
Office Building Loans – we lend on all types of office properties, including multi-tenant and single tenant buildings in all locations. We lend on both owner occupied and investor properties. We typically lend up to 75% LTV on investor properties and up to 90% on owner occupied properties. Most loans are written for either 5, 7, or 10 years at a fixed rate with a 25-year amortization.
Retail Building Loans – we gladly consider requests for commercial mortgage loans on shopping centers, retail strip centers, and individual retail stores. We are a little bit more conservative on retail loans these days based on the current climate for retailers and will consider LTV ratios of 65%-75% depending on the deal. We actively lend on NNN single tenant retail locations such as Starbuck's, CVS, Walgreens, Dollar General, and other national credit rated tenants.
Industrial Property Loans – we love to lend on warehouses, distribution centers, manufacturing facilities and other industrial properties. Often, these properties are owner occupied by the owner's business. We also lend on multi-tenant industrial properties as well. We look for properties in good locations with access to population centers and transportation.
Single/Special Use Loans – we have a special lending division that understands small business lending secured by owner occupied businesses such as motels, gas stations, restaurants, car washes, retail stores, and other specialty properties. Many banks have a hard time with this type of lending as they often do not understand the underlying businesses.
Investment Property Loans – any and all income producing property will be considered. We are cash flow driven lenders and look for properties that generate positive cash flow for their owners. We will consider portfolios of single family residences under this group.
Bridge Loans – many borrowers do not qualify for regular institutional financing due to various short-term obstacles which need to be resolved before they can qualify for bank type financing. These borrowers often require short term loans, or bridge loans, to overcome these short-term problems.
Our company has multiple capital sources for these loans, including: national banks, regional and local banks, Fannie Mae, Freddie Mac, FHA, HUD, insurance companies, Wall Street conduit lenders (CMBS deals), credit unions and private lenders/hedge funds. Whether you are purchasing or refinancing, we have the right solutions available. We will entertain loan requests of all sizes, beginning at $1,000,000. Get started with a
Free Commercial Mortgage Loan Quote
.
Sacramento Commercial Mortgage Loans
Select Commercial provides commercial mortgage loans and multifamily financing throughout Sacramento and the state of California including, but not limited to, the areas below.
Land Park • Alkali Park • Mansion Flats • Downtown • East Sacramento • Richmond Grove • Old Sacramento • Green Haven • Medical Center