Henderson Apartment Loans
Loans from $1 Million to $25 Million+
Henderson Apartment Loan Rates - Rates updated March 30th, 2023

Henderson Apartment Loan Rates Over $6,000,000
Rates (start as low as)
LTV
Apartment 5 Year Fixed Loan Rates
5.22%
Up to 80%
Get Free Quote
Apartment 7 Year Fixed Loan Rates
5.10%
Up to 80%
Get Free Quote
Apartment 10 Year Fixed Loan Rates
4.91%
Up to 80%
Get Free Quote
Henderson Apartment Loan Rates Under $6,000,000
Rates (start as low as)
LTV
Apartment 5 Year Fixed Loan Rates
5.32%
Up to 80%
Get Free Quote
Apartment 7 Year Fixed Loan Rates
5.20%
Up to 80%
Get Free Quote
Apartment 10 Year Fixed Loan Rates
5.01%
Up to 80%
Get Free Quote
Apartment Loan FAQs
How do we help our clients needing financing for a multifamily apartment building get the best rate and terms?
Select Commercial has excellent apartment loan products and options available for owners and purchasers in need of multifamily properties throughout the city of Henderson. Whether you need an apartment lender to finance a small apartment property, a complex with hundreds of units, or a co-operative, we can help you find the optimal apartment loan solution to meet your apartment loan needs. While we lend across the entire continental US, we are able to give our best rates and loan programs to certain areas that we feel are strong markets. Henderson is one of the cities that we consider to be a premium market and we actively look to originate good quality apartment loans here for our clients. We have a diverse array of many available loan products to help qualified borrowers looking to purchase or refinance an apartment property. We offer apartment loans with terms and amortizations up to 30 years, recourse and non-recourse, and many options for prepayment. We typically approve Apartment building loans within 1 day and usually close within 45 days of application. Our clients love our simplified application process, 24-hour pre-approvals with no-cost and no-obligation, great rates and terms, fast closings and personalized service. If you are looking to purchase or refinance an apartment building, don't hesitate to contact us. For more information on multifamily loans, check out how to get the best rate on a multifamily loan and how to get the best rates on an apartment refinance.
Apartment - Multifamily Loan Benefits
Apartment Loan rates start as low as 4.91% (as of March 30th, 2023)
• A commercial mortgage broker with over 30 years of lending experience
• No upfront application or processing fees
• Simplified application process
• Up to 80% LTV on multifamily financing
• Terms and amortizations up to 30 years
• Multifamily loans for purchase and refinance, including cash-out
• 24 hour written pre-approvals with no cost and no obligation
Recent TRUSTPILOT Reviews
Select Commercial Funding Reviews from TRUSTPILOT

A three year journey
"Thanks Stephen for all of your hard work in getting our deal closed! I appreciate your professionalism and patience throughout a complicated process. You always were there for my partner and I whenever we had questions and needed answers quick. It was a pleasure to have worked with you and Select Commercial!"
Apartment Loan Types We Serve
If you are looking to purchase or refinance a Henderson apartment building, don't hesitate to contact us. We arrange financing in the city of for the following:
Large urban high-rise multifamily buildings
Suburban garden multifamilycomplexes
Small multifamily buildings containing 5+ units
Underlying cooperative multifamily building loans
Portfolios of small multifamily properties and/or single-family rental properties
Other multi-family and mixed-use properties
Apartment Loan Helpful Articles
How to Get the Best Rate on a Multifamily Loan
Fannie Mae and Freddie Mac 2022 Update
How To Get The Best Rates On An Apartment Refinance
What Do Underwriters Look for When Evaluating Apartment Loans?
What You Need to Know About Freddie Mac SBL Multifamily Loans
How to Calculate Debt Service Coverage Ratio for Apartment Loans
Apartment Occupancy Levels – Concern in Some Major US Markets
How to Invest in an Apartment Building
Are You Shopping for an Apartment Building Loan?
How to Buy an Apartment Building
What Are Commercial Mortgage Lenders Looking for These Days
Uncomplicated Underwriting
How to Qualify for a Great Rate When Refinancing Your Apartment Building
Recent Multifamily Loan Closings
What are the market conditions expected for Apartment Loans in 2023?
Experts anticipate above average performance for the multifamily sector in 2023. Occupancy rates are expected to remain above 95% and rental rates are expected to grow by 4%. These figures are not as robust as the past couple of years, however, which saw vacancy rates under 3% and rent growth in the double digits. During the second and third quarters of 2022, leasing activity for apartment buildings was slow. This coincided with a solid pace of new multifamily deliveries to the market. The combination of slower leasing activity and heightened supply caused the overall vacancy rate to increase by 150 basis points in the middle portion of 2022. Throughout 2023, vacancy rates will likely continue to rise at a slower pace and move toward the 20-year average of 5%.
The overall multifamily housing demand is expected to remain strong in 2023. With inflation continuing to impact consumer spending, more and more renters are determining whether to renew their leases. While new leasing activity stalled throughout the middle portion of 2022, the overall multifamily demand remained pretty strong. The rise in home prices and residential mortgage rates is also helping to increase multifamily demand. Monthly payments for homes purchased in the third quarter of 2022 were, on average, 57% more than monthly apartment rents. That difference is the widest gap on record. Even if home values and mortgage rates decrease in 2023, the relatively lower cost of renting will support multifamily demand.
Rapidly rising interest rates on multifamily loans caused multifamily investment activity to slow down in the second half of 2022. Many buyers not willing to pay higher rates for apartment loans stepped out of the market. As apartment loan rates stabilize in 2023, many buyers will return to the market and look to finance apartment building investments with multifamily loans. The multifamily sector has historically been one of the most attractive sectors to investors. Over the past decade, the multifamily sector has seen average annual total returns of 9.3%. Additionally, this sector offers multifamily loan options from both Fannie Mae and Freddie Mac. These apartment loan options are not available for other asset classes. As the market stabilizes in 2023, more and more investors will look to acquire apartment buildings and finance them with agency apartment loans.
One other factor that caused the multifamily sector to stall in 2022 is that buyers expected cap rates to increase commensurate with the rise in interest rates, but sellers still expected higher prices.  This caused many deals to simply not cash flow. Cap rates are expected to increase in 2023. With this increase, many buyers will have the option to finance acquisitions with apartment loans at more attractive prices.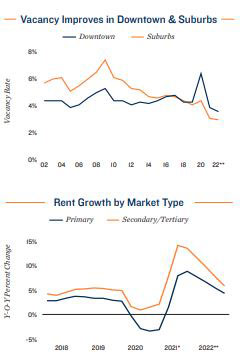 Apartment Loan Outlook 2022
As we enter 2022, apartment loan activity is very strong but facing a potential slowdown as the Federal Reserve begins increasing rates to slow the rate of inflation. Apartment loans might be affected, along with the rest of the country, depending on what happens this year with the Federal Reserve. The following is a national summary of the apartment loan market at the beginning of 2022. We expect apartment loans to follow national economic trends.
Apartments Show Record Strength as Household Growth Performs at Record Levels In 2022 we expect strong housing demand to surpass existing supply. 2021 was a very strong year for apartment owners. After the difficulties of 2020 due to the pandemic caused much disruption, rapid job creation and a strong economic reopening led to a surge in apartment rentals. A record number of units were rented in 2021, driving the national apartment vacancy rate down to the lowest year-end level in more than twenty years. Average multifamily rental rates increased by record setting margins, as well. Apartment profitability is expected to increase even further in 2022, although probably at a slower pace following the uncertainty observed in 2020 and 2021, as the economy often started up and slowed down quickly with each new strain of the Coronavirus pandemic. As the economy continues its stabilized recovery, apartment demand will continue to grow. Strong household formation will drive rental increases above the record 400,000 apartments expected to hit the market in 2022. Apartment availability among top-of-the-line Class A units began 2022 at one of the lowest rates in over twenty years. Rental demand for Class B and C units, will also strengthen in 2022 as increasing prices prompt some apartment renters to give up more expensive apartments. Raw material and labor shortages also raise risks of construction delays in the home buying market, keeping many would be buyers in apartment rentals. As such, all multifamily properties will perform well in 2022.
Urban areas continue to recover even as suburban demand gets stronger. The Coronavirus pandemic and associated lockdowns caused a movement, or transition, of households from densely populated urban areas and large urban cities to more suburban and rural settings and secondary market locations. Vacancy rates in the densely populated business districts of the country's large markets rose 230 basis points in 2020, versus a 10 basis point vacancy rate increase in smaller suburban submarkets in smaller cities. Apartment availability has continued to decrease in these secondary market locations even though the worst of the pandemic has passed. Not including immigration, an estimated 44 million people will enter their 30s over the next 10 years, a stage of life associated with the beginning of families, which is the main driver of apartment demand. Increasing household size causes renters to look for larger accommodations, which are more affordable in suburban and rural locations. While this demographic change will continue in 2022 and beyond, urban areas are also recovering quickly as offices in downtown areas continue to reopen. The 2020 shock to downtown markets changed course by the third quarter of 2021, with further improvement anticipated in 2022. The reopening of retail establishments such as bars, restaurants and entertainment venues, the continuing return to offices, and a new group of college graduates all point to strong demand for the downtown apartments in urban locations.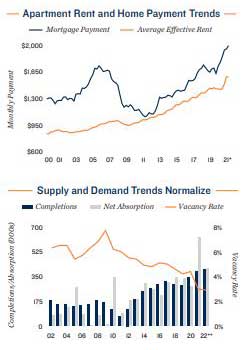 Federal rental aid during the pandemic prevented dire eviction projections. Historically, the vacancy rate in Class C apartments has tracked well with the unemployment rate. During the Coronavirus pandemic, however, when unemployment hit 14.8 percent, Class C vacancy stayed below 4 percent. Federal stimulus and eviction moratoriums kept many renters in their apartments even through layoffs, furloughs, and job losses. While eviction moratoriums have ended, over $40 billion in rental aid is being distributed which is helping to prevent large migration out of apartment units.
Housing demand in 2022 is expanding into alternative dwellings. Households are being created faster than new construction can accommodate, forcing some apartment renters to look at other choices. Millennials seeking larger space at lower costs are considering single-family home rentals while those who are priced out of Class C units are looking more at manufactured home communities and mobile home parks.
The ability to work from home offices and pet-friendly accommodations are gaining importance in 2022. Even though the pandemic situation is improving, work habits adopted during the pandemic will not be so easily reversed. The increase in workers who still work from home has caused some renters to look for greater apartment square footage as well as common spaces within the building in which to co-work with others. A large increase in pet ownership caused by lockdowns also now causes strong demand for pet-friendly properties.
The strong apartment market and the strong national market is causing many Henderson investors to consider investing in apartments and is causing strong demand for apartment loans.  Apartment loan rates remain low as we enter 2022, but the Federal Reserve has indicated their desire to raise rates in 2022 to curtail inflation.  We are watching closely to see what happens with apartment loan rates this year.
Whether you are purchasing or refinancing, we have the right solutions available for your multifamily mortgage loans. We will entertain apartment loan requests of all sizes, beginning at $1,000,000. Get started with a Free Commercial Mortgage Loan Quote.