Kansas City Apartment Loans
Loans from $1 Million to $25 Million+
Kansas City Apartment Loan Rates - Rates updated October 3rd, 2022

Kansas City Apartment Loan Rates Over $6,000,000
Rates (start as low as)
LTV
Apartment 5 Year Fixed Loan Rates
5.40%
Up to 80%
Get Free Quote
Apartment 7 Year Fixed Loan Rates
5.40%
Up to 80%
Get Free Quote
Apartment 10 Year Fixed Loan Rates
5.50%
Up to 80%
Get Free Quote
Kansas City Apartment Loan Rates Under $6,000,000
Rates (start as low as)
LTV
Apartment 5 Year Fixed Loan Rates
5.50%
Up to 80%
Get Free Quote
Apartment 7 Year Fixed Loan Rates
5.50%
Up to 80%
Get Free Quote
Apartment 10 Year Fixed Loan Rates
5.60%
Up to 80%
Get Free Quote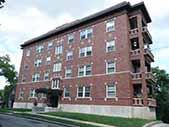 Select Commercial has excellent Kansas City Apartment loan products and options available for owners and purchasers of multifamily properties throughout the city of Kansas City. Whether you are looking to finance a small apartment building, a complex with hundreds of units, or a co-operative, we can help you find the optimal financing solution to meet your Apartment mortgage loan needs. While we lend across the entire continental US, we are able to give our best rates and loan programs to certain areas that we feel are strong markets. Kansas City is one of the cities that we consider to be a premium market and we actively look to originate good quality loans here for our clients. We have a diverse array of many available loan products to help qualified Kansas City MO borrowers looking to purchase or refinance an apartment property. We offer apartment loans with terms and amortizations up to 30 years, recourse and non-recourse, and many options for prepayment. We typically approve Apartment building loans within 1 day and usually close within 45 days of application. Our clients love our simplified application process, 24-hour pre-approvals with no-cost and no-obligation, great rates and terms, fast closings and personalized service. If you are looking to purchase or refinance an apartment building, don't hesitate to contact us. For more information on multifamily loans, check out how to get the best rate on a multifamily loan and how to get the best rates on an apartment refinance.
Kansas City Apartment Loan Benefits
Kansas City Apartment Loan rates start as low as 5.50% (as of October 3rd, 2022)
• A commercial mortgage broker with over 30 years of lending experience
• No upfront application or processing fees
• Simplified application process
• Up to 80% LTV on multifamily financing
• Terms and amortizations up to 30 years
• Multifamily loans for purchase and refinance, including cash-out
• 24 hour written pre-approvals with no cost and no obligation
Recent TRUSTPILOT Reviews
Select Commercial Funding Reviews from TRUSTPILOT

A three year journey
"Thanks Stephen for all of your hard work in getting our deal closed! I appreciate your professionalism and patience throughout a complicated process. You always were there for my partner and I whenever we had questions and needed answers quick. It was a pleasure to have worked with you and Select Commercial!"
Kansas City Apartment Loan Types We Serve
If you are looking to purchase or refinance a Kansas City apartment building, don't hesitate to contact us. We arrange financing in the city of Kansas City for the following:
Large urban high-rise multifamily buildings
Suburban garden multifamilycomplexes
Small multifamily buildings containing 5+ units
Underlying cooperative multifamily building loans
Portfolios of small multifamily properties and/or single-family rental properties
Other multi-family and mixed-use properties
Kansas City Apartment Loan Helpful Articles
How to Get the Best Rate on a Multifamily Loan
Fannie Mae and Freddie Mac 2022 Update
How To Get The Best Rates On An Apartment Refinance
What Do Underwriters Look for When Evaluating Apartment Loans?
What You Need to Know About Freddie Mac SBL Multifamily Loans
How to Calculate Debt Service Coverage Ratio for Apartment Loans
Apartment Occupancy Levels – Concern in Some Major US Markets
How to Invest in an Apartment Building
Are You Shopping for an Apartment Building Loan?
How to Buy an Apartment Building
What Are Commercial Mortgage Lenders Looking for These Days
Uncomplicated Underwriting
How to Qualify for a Great Rate When Refinancing Your Apartment Building
2022 Kansas City Apartment Loan Outlook
Improving Demand from Strong Industrial Market Employment Causes Investor Confidence

Solid economic performance keeps market demand strong for new units. Net rental rates exceeded a record number of new units hitting the market in 2021 as unemployment rates in Kansas City were below the national average and the rate of new household growth increased. This strong performance lowered vacancy rates to a 20 year low and raised the average rental rates by double digits. Strong economic conditions are expected to continue to drive the market in 2022. The city's position as one of the larger industrial areas in the Midwest will support new job growth in the sectors of trade, transportation and utilities, causing demand for Class B and C apartment units. Kansas City's population of young professionals is slated to grow as standard office jobs are generating in-person employment and increased staffs. Construction of new apartment units near employment areas will help the market demand. New apartments in 2022 will be concentrated in Johnson County, specifically in Overland Park and Shawnee. New construction in the city of Kansas City will be spread out among many different neighborhoods and the supply additions are not expected to raise vacancy in the central business district.

Larger apartment buildings generate attractive returns for national buyers. Class B and C properties with more than 100 units are strong right now as out of state buyers search the Midwest for higher returns. High end markets and lower cost areas with value-add opportunities are seeing strong competition from investors. Despite the competition, rates of return in the 5% to 7% range are common as the market's average rate of return has remained in the high-6% range for the last 5 years. Investors looking at older properties in neighborhoods where improvements will generate a large rent increase look at Jackson and Wyandotte counties. Investors with a desire for the market's tightest submarkets look at Overland Park and Shawnee-Lenexa-Mission, which also have some of the city's highest average rents.


2022 Apartment Market Forecast and Kansas City Apartment Loan Economics
Kansas City has a National Multifamily Index of 28, which ranks low on the list on 2022 as rent growth is not enough to outpace weak household creation.
Employment is up 2.7%. Employment levels exceed the pre-Covid levels in 2022 as 30,000 positions are added.
New construction adds 3,700 apartment units. On the heels of the highest annual figures in more than 20 years, builders increase inventory by 2.1%. New apartment figures, however, are low in downtown Kansas City.
Vacancy rates are down 10 basis points. Demand for luxury and near luxury apartments stays level new additions, keeping vacancy rates at 3.9%. In 2021, unit availability declined by 90 basis points.
Apartment rents are up 6.3%. Strong performance across all apartment classes raises the market's effective rent to an average of $1,180 per month. This increase is higher than the prior 5-year average.
Investment in Kansas City apartments. The extension of the Kansas City Streetcar along Main Street will increase investment activity in Midtown neighborhoods near future transit stops in 2022.
Kansas City apartment loan rates will start to increase in 2022 as the Federal Reserve starts raising rates to slow the rate of inflation. We will be watching to see if Kansas City apartment loan rate increases will affect market activity in 2022.
All data provided by Marcus and Millichap
2021 Kansas City Apartment Market and Trends
After the Covid- 19 pandemic, the Kansas City multifamily market is beginning to recover in 2021. Employment is expected to increase 3.2 percent this year. That is an increase of 34,500 jobs in 2021 which should offset a significant number of jobs lost during the pandemic. Only about 4,210 new units are set to be completed in 2021. This amounts to about 2.4 percent of the current inventory. Vacancy rates in Kansas City are expected to decrease in 2021. They should come down about 4.7 percent, or 20 basis points. With vacancy rates going down, rents are expected to increase 3.5 percent in 2021. The average effective rent in 2021 should hit $1,037 per month. As vaccine rollouts continue in 2021 and the economy continues to open up, the multifamily market in 2021 should continue to heat up.
- Data provided by Marcus and Millichap
2021 Multifamily Outlook
Employment in the US is expected to show a 4.6% year over year increase with the creation of 6.5 million new jobs in 2021 which represents the largest annual increase in over three decades.  This is the result of businesses emerging from the Covid-19 pandemic.  Unfortunately, the US lost close to 9.4 million jobs during the pandemic.
Strong demand for apartments, as a result of increased employment rates, is expected to push national vacancy rates down to 3.9%, down from 4.4% in 2021.
Construction of new apartments in 2021 are expected to top 385,000 new units, an increase of 2.1% over last year's record pace.  Rising labor and construction costs are starting to have an effect on new construction, however.
Following rent declines during the pandemic, average rental rates are expected to rise 6.8% in 2021 to $1,507 per month.  Landlords are able to raise rents dramatically due to decreased vacancy rates and the strong demand got rental housing.
The COVID-19 pandemic affected the ability of young graduates to find jobs and move into apartments of their own.  The demand for apartment rentals is usually fueled by young graduates entering the workforce and moving into rental apartments.  Many young adults lived with their parents or friends during the pandemic and into early 2021.  As 2021 progressed, many companies reopened their offices and began hiring again which generated record levels of new apartment rentals.  This trend should continue through late 2021 as more new workers are able find jobs and move into their own apartments.  Many of these new multifamily units are in metro areas of the sunbelt states as workers have been moving out of colder urban areas in favor of more suburban warmer climates.

The tight market in 2021 for new home purchases has caused many would be homebuyers to continue renting.  Prices for existing homes have risen due to lack of inventory and the cost of construction has skyrocketed due to increased costs for raw materials.  The high cost of purchasing a new or existing home is keeping the demand for rental units very strong in 2021.

During the pandemic, when workers were either out of work or working from home, many people moved out of densely populated urban areas in favor of suburban locations.  In 2021, as more employees are returning to their offices, we are seeing demand pick up once again for rental apartments in urban locations.  In addition, as more and more retail and dining locations reopen in downtown areas, we expect to see a return of employees to these areas.

During the pandemic, the CDC and local governments instituted a moratorium of evictions.  This caused many landlords to suffer economic losses and depressed the value of apartment properties.  In 2021, as these moratoriums start to expire, we expect to see strong demand from investors for these properties.

Nationwide, the first half of 2021 saw more than 175,000 new apartments completed and a total of 363,000 for the previous 12 months.  A high percentage of these new units were in Texas and other sunbelt states, as more and more people are relocating to warmer climates.  Occupancy rates and asking rents have been lower in larger urban markets in the Northeast and other colder climates, while occupancy rates and asking rents have been increasing in these warmer sunbelt climates.  These 2021 trends have definitely been driven by the COVID-19 pandemic and we are watching these trends closely to see if these trends persist after the pandemic is over. Check out our low commercial real estate loan rates and use our commercial mortgage calculator to calculate monthly principal and interest.
What Happened with Apartment Loans in 2020
Corporate Expansion Boosts Apartment Demand; Suburban Employment Hubs Spurring Investment
Multifamily demand drivers point to another year of steady fundamentals. Following a five-year-long streak of robust apartment rental absorption, Kansas City's apartment sector enters 2020 on solid footing. During the recent span, vacancy dipped 30 basis points amid the delivery of more than 18,000 multifamily units. Positive employment growth and the resulting increase in household formation fueled the need for these newly built apartments. Catalysts for job creation are lined up for this year, driven by IT firm Cerner's expansion and USDA relocating two internal agencies from Washington, D.C., to downtown Kansas City. With unemployment low, these organizations and other growing firms will recruit from outside the metro with greater frequency, increasing the pace of new residents searching for apartments. This activity coincides with the delivery of 3,600 multifamily units this year, largely 200-unit-plus properties in Kansas City's core and southern Overland Park. While these supply additions will raise the use of concessions in these locales and place pressure on short-term multifamily vacancy, overall apartment availability in the metro will adjust nominally this year. Investors looking to purchase property in Kansas City should definitely look into taking out an apartment loan to finance their acquisition.
Higher-tier trades near employment centers steer deal flow. Local and out-of-state apartment buyers are equally active in Kansas City, boosting competition for multifamily listings and asset values while strong rental demand persists. Larger Class A and B multifamily properties are highly pursued by outside investors. In downtown Kansas City, pricing for these apartment properties can exceed $250,000 per unit, with cap rates dipping below 5 percent. Home to the metro's largest job center and highest median income, Johnson County represents an additional focus for these buyers. Here, similar-size multifamily assets have yet to trade for more than $200,000 per door. Smaller private investors seeking midsize Class C apartment complexes above 8 percent first-year yields contend for listings in outlying Johnson County, where sub-$60,000 per unit pricing remains prevalent. Kansas City is a great market for investors to finance their next apartment purchase with a multifamily loan.
2020 Kansas City Apartment Market Forecast
Kansas City National Multifamily Index Rank is at 43, down 1 place. Slower job growth and an expanding inventory trim Kansas City a notch in the 2020 NMI.
Employment in Kansas City is up 0.9%. Employers create 10,000 jobs this year, driven by a solid increase in the number of traditional office positions. In 2019, organizations added 13,000 workers to staffs.
Construction in Kansas City is expected to exceed 3,600 apartment units. Delivery volume in 2020 dips slightly from the prior five-year average of 3,700 units, with supply additions boosting Kansas City's rental stock by 2.1 percent.
Vacancy in Kansas City is up 10 bps. On net absorption of more than 3,200 apartments, metro vacancy inches up to 5.2 percent this year.
Rent in Kansas City is up 3.6%. Stable vacancy and rising incomes allow Kansas City's average effective rent to reach $1,015 per month in 2020.
Investment opportunities in Kansas City remain strong for those looking to finance their next purchase with an apartment loan. Rising asset values influence upside-seeking local investors to target Midtown Kansas City, where sub-$100,000 per unit pricing and returns in the low-7 percent band are obtainable. We highly recommend any investors looking to buy in the Kansas City market to reach out to us regarding a multifamily loan.
Data provided by Marcus & Millichap.
Apartment Loan Trends in 2020
At the start of 2020 the market outlook did not indicate any significant factors that would cause major trouble in the multifamily market. Market indicators suggested that demand for housing, especially for apartment rentals, would remain healthy, thus continuing to generate new construction of multifamily buildings. Both the high number of permits and starts over the past couple of years led experts to believe that developer confidence is very high in the multifamily market. Market experts predicted an annual completion of 340,000 apartment units over 2020, way above the 300,000-annual average for the past five years. Over the last couple of years, the multifamily market has seen absorptions outperform expectations due to both changes in lifestyle and demographic preferences and new supply has consistently taken longer to be built. These two factors have helped the market to perform stronger than expected in the past and should continue throughout this year. Market data indicated that rent growth would remain strong in 2020, growing 3.6% (which is above the historical average). In terms of mortgage origination, low interest rates and strong multifamily performance were expected to help loan volumes grow. Experts predicted that the origination volume in 2020 will increase by 5.7% to $390 billion. Market data indicated that cap rates have more room to decline, which would lead to increasing property values and should drive up origination volume. However, with the current outbreak of Covid-19, the overall economy has been in flux. The stock market has crashed and commercial mortgage interest rates have been severely impacted. Huge metros such as New York have all but shut down much economic activity and entertainment. In this unsteady climate, many investors are scared to purchase commercial real estate and to take out commercial mortgages and apartment loans. Additionally, the oil industry has taken a big hit. Not only are people traveling less due to the pandemic, foreign countries like China and Russia are involved in a huge price war which is driving the price of oil way down. Experts are hopeful that as the weather warms up and public health policy learns how to handle this pandemic, the economy should revert back to its pre-virus strength.
Kansas City Apartment Loan Options
Kansas City Freddie Mac Apartment loans
Kansas City Freddie Mac Multifamily Loans provide mortgage capital in the secondary market for apartment building loans. Together, Fannie Mae and Freddie Mac control a very large portion of the multifamily loan market. Freddie Mac has a very aggressive program for small balance apartment loans (from $1,000,000 to $7,500,000). Some features of this program include:
Market size driven. Freddie Mac classifies loans by the size of the overall market: Top, Standard, Small, and Very Small. Rates are best in top market locations (major metropolitan areas).
Capped costs. Freddie Mac lenders often cap the closing costs at a fixed dollar amount, thereby lowering the overall cost to borrow money.
Flexible pre-pay penalties. Freddie Mac offers many options for pre-payment penalties, from yield maintenance to step-down to "soft" step-down.
Interest-Only (I/O) loans. Freddie Mac will allow payments consisting of only interest and no amortization of principal.
Fixed rate terms. Freddie Mac offers fixed rates of 5, 7, and 10 years, followed by an adjustable period. These loans are called Hybrid/Adjustables. Loans have a 20 year term and a 30 year amortization schedule.
Freddie Mac Loan and Rate Information

Kansas City Fannie Mae Apartment loans
The Kansas City Fannie Mae multifamily loan platform is one the leading sources of capital for Kansas City apartment building loans in the US. Fannie Mae is a leader in the secondary market – meaning they purchase qualifying apartment loans from leading lenders who originate these loans for their borrowers. Fannie Mae purchases loans secured by conventional apartments, affordable housing properties, underlying cooperative apartment loans, senior housing, student housing, manufactured housing communities and mobile home parks on a nationwide basis. The Fannie Mae platform has many benefits, including:
Long term fixed rates and amortizations. Fannie Mae allows terms and amortizations of up to 30 years. Most banks offer only 5 or 10 year fixed rates and 25 year amortizations.
Non-recourse options. Most banks will require the borrower to sign personally for the loan. Fannie Mae offers non-recourse apartment loans.
Lending in smaller markets. Many national lenders do not like to lend in rural or tertiary markets. Fannie Mae is a good option for these loans.
Assumability and Supplemental Financing. Fannie Mae allows their loans to be assumed by a qualified borrower. They also have a program which allows borrowers the ability to come back and borrow additional funds during the life of the loan (subordinate financing).
Fannie Mae Loan and Rate Information
Kansas City FHA HUD Multifamily Loans
HUD (Department of Housing and Urban Development) and FHA (Federal Housing Administration) insured multifamily loans are some of the best financing options for real estate investors and developers. While HUD does not directly make these loans, they do insure multifamily loans made by third party lenders to real estate investors. The third party lender will process the loan in accordance with the FHA HUD guidelines and HUD will underwrite the loan in order to provide the insurance. There are two primary types of HUD insured loans that multifamily investors can take advantage of.

Learn More About FHA HUD Multifamily Loans
---
Kansas City Apartment Lending with Banks and Other Programs
While the agencies (Fannie Mae, Freddie Mac and HUD) offer some excellent programs, not every apartment loan applicant qualifies for these programs. We have many excellent choices for these loans with our correspondent banks, credit unions, insurance companies and private lenders. Some examples of these loans include:
Kansas City Multifamily loans that require flexible underwriting or those that don't meet standardized criteria.
Properties in less than desirable markets, or those that require repairs or updating.
Properties that don't cash flow according to industry guidelines or lack stabilized cash flow.
Borrowers with past credit issues, including foreclosures, short sales, or judgements.
Borrowers who are not US citizens.
Whether you are purchasing or refinancing, we have the right solutions available for your multifamily mortgage loans. We will entertain apartment loan requests of all sizes, beginning at $1,000,000. Get started with a Free Commercial Mortgage Loan Quote.
Kansas City Apartment Building Loans
Select Commercial provides Apartment Loans and multifamily loans throughout Kansas City, Missouri including, but not limited to, the areas below.
Pendleton Heights • Fairway Hills • Armour Fields • Morningside • Ridgefield • Brookside Park • Ward Parkway • East Swope Highlands • Country Club